This post was written by CHC member Whitney Vuong.
Series: Reflections on AmeriCorps Service
Whitney serves at Erie Family Health Center - Amundsen as a Health Educator.
Rewind one year ago: I had just graduated from the University of Illinois in Urbana-Champaign with a degree in Molecular and Cellular Biology. After making the decision to take a gap year between college and medical school, I set out to find a program that would allow me to continue my passion for serving communities in need while gaining hands-on experience in the field of public health. After much research and several conversations with past AmeriCorps members, Chicago Health Corps seemed like the perfect fit. So I went for it and was offered a position at Erie Family Health Center in Amundsen High School. Feeling ecstatic, I accepted right away.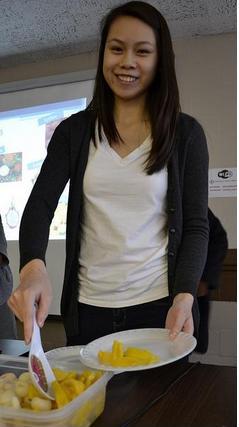 But before I even began my term of service, I started to think about the things I wanted to achieve in the coming year. My goals could be summed up in two words: connect and empower. As a health educator, I strived to empower students to take charge of their health and make smart decisions through nutrition, oral health, or sexual health education. I believe that a person's health and well-being is essential to his/her quality of life and productivity in school. Secondly, I wanted to connect – whether it was connecting students in underserved communities across Chicago to the health resources they needed, or making meaningful connections with the people I interacted with. So as the service term draws to an end, did I accomplish what I set out to do?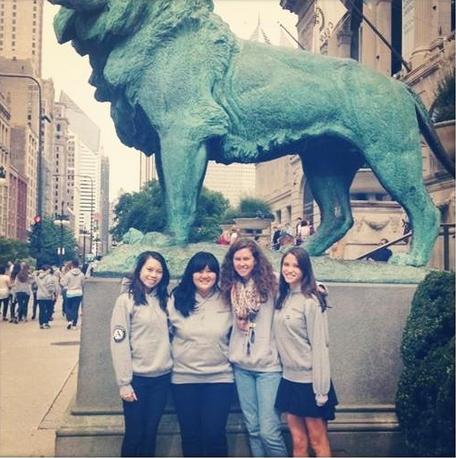 Along with three other Chicago Health Corps members at Erie, I taught sexual health, oral health, and nutrition education classes to more than 3,500 students across the city of Chicago. After these classes, I observed students asking questions to clarify what we taught, going to the health center to sign up for one-on-one nutrition counseling, making an appointment to get tested for STDs, or picking up some free condoms. I also connected students to dental and vision services. I still recall the day the optometrist from Ageless Eyecare visited Amundsen High School. Out of the 26 students that were seen, 26 needed glasses.
In summary, I achieved my goals and unexpectedly received more from this year of service than I had anticipated. I have had the opportunity to serve with bright, compassionate individuals whom I am proud to call my fellow AmeriCorps members. Living and serving in Chicago has truly immersed me in the community, allowing me to further understand the health disparities across the city in addition to the barriers Chicago residents face when they needed care. From the students I taught and interacted with, I have gained perspective and insight into their lives. I learned that no matter how different our childhoods were, we hold very similar hopes and dreams. And lastly, I have grown both personally and professionally with the help of Erie Family Health Center and Chicago Health Corps. No matter where life takes me, this rewarding year of service will always hold a special place in my heart, and without a doubt, I will continue to make service a part of my life.