Take a moment of silence before you read this blog. Quiet your mind and your surroundings, if you can. Pause your music, mute your cell phone, and just take this time to sit in silence.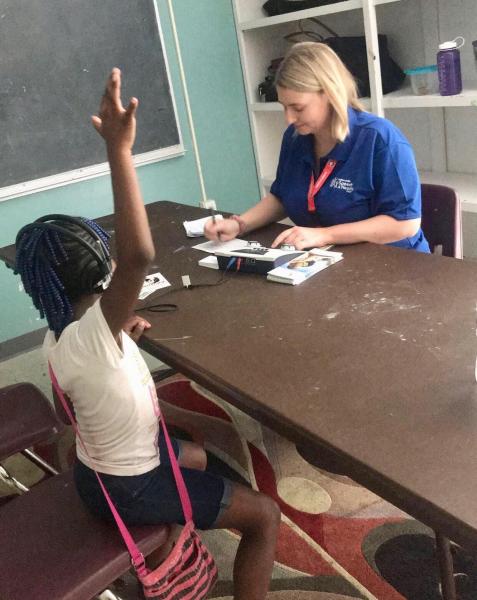 Okay, now we're back.
Did you enjoy your moment of silence? Was it strange to sit in the quiet for you, or was it refreshing? Now imagine that this moment of silence was your day to day life. Many people that I serve at my host site suffer from hearing loss and have lost moments in time of their life due to their hearing loss. Often times, we take communication for granted. From hearing our alarm clocks telling us that it's time for us to start our day or being able to tell our family and friends that we love them, communication helps us bond and build community with those around us.
At the Jacksonville Speech and Hearing Center, we give the gift of communication to all that we serve. With hearing evaluations and hearing aids, we give the gift of hearing. With speech-language evaluations and speech therapy, we give the gift of verbal communication. Our mission reads, "To provide the highest quality professional and compassionate care to all individuals with speech, hearing, and/or language disorders in the community regardless of ability to pay.'' This is exactly what we do by accepting most commercial insurances, Medicare and Medicaid. We also have financing programs for those who are uninsured or underinsured.
As an outreach coordinator, one of my responsibilities is to go out to different YMCA's, health fairs, apartments and nursing homes to do free hearing screenings. For those without insurance or aren't able to see a primary care physician, it's near impossible to get a hearing screening. But that's where we come in. With our portable audiometers, we bring the screening to them, free of cost. If a patient fails, meaning that they cannot hear any one of the specific tones that we test, we recommend them to our clinic for a full hearing evaluation.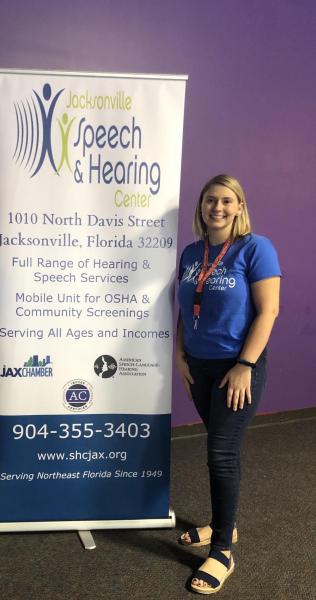 In my position, I help bring our resources into the community. A lot of people that I serve don't have access to a car and rely on public transportation to get where they need to be. Instead of worrying about how to get to an evaluation, we bring the hearing evaluation to them. I do hearing health presentations to teach the community about how to protect themselves from possible hearing loss.

During my time as a National Health Corps member, I have learned the importance of small, attainable, changes. For the lack of transportation that a lot of our clients face, we overcome this barrier with our mobile hearing unit. Even a simple, five minute hearing evaluation can diagnose hearing loss and give us the ability to treat patients and give them back their hearing. By making our services more accessible, we give the gift of communication.
In The Tipping Point: How Little Things Can Make a Big Difference, a book that I recently read by Malcolm Gladwell, he touches on the importance of small changes and how they can lead to big changes. He states, "In the end, tipping points are a reaffirmation of the potential for changes and the power of intelligent action. Look at the world around you. It may seem like an immovable, implacable place. It is not. With the slightest push, in the right place, it can be tipped." That's what we do as NHC members with small changes, slight pushes. We slowly change healthcare by combating barriers to treatment and prevention.
---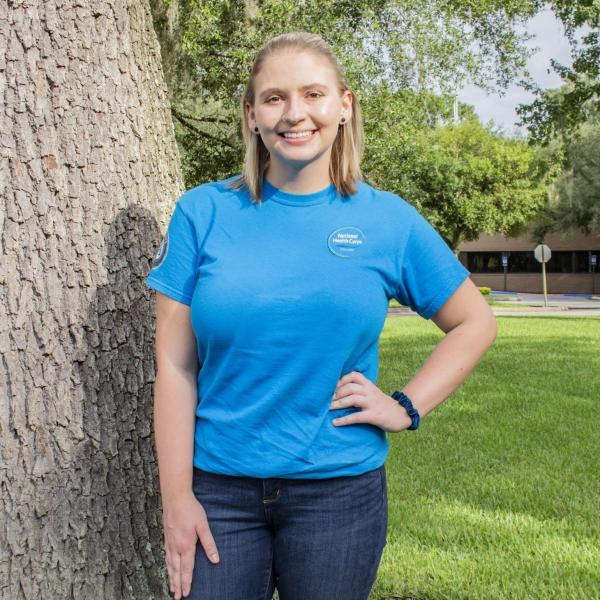 This post was authored by NHC Florida member Hannah Youngworth.
Hannah serves at the Jacksonville Speech and Hearing Center as an Outreach Coordinator.