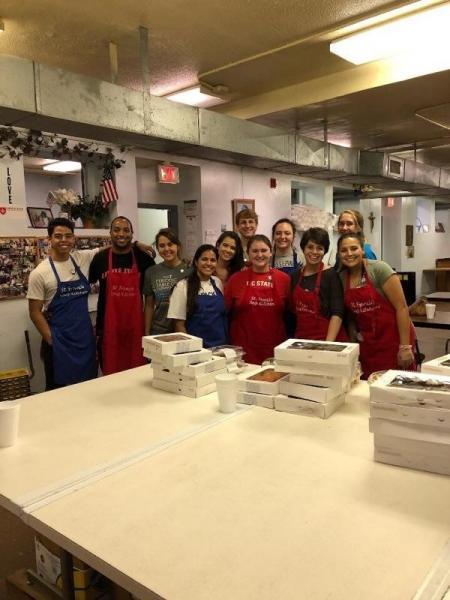 In Athens, Georgia, we say, "It's Saturday in Athens" every home football game. A simple phrase with a significant meaning. No matter how all of our weeks were prior to Saturday. No matter if we are students, professors, or alumni from class of 1950, we all come together on Saturday as a community to cheer on our Dawgs. Simply put, Saturdays in Athens are magical.
The day is Saturday, and I wake to the chiming of my oh-so familiar alarm. Another early morning, I think to myself, except today is different - I will be serving at St. Francis Soup Kitchen. I prepare for my day, quickly adding the finishing touch to my outfit, my NHC FL AmeriCorps badge. A comforting, symbolic reminder that my day will be spent serving others and getting things done for my newly adopted community, Jacksonville.
After spending weeks serving as a Red Cross volunteer in several shelters both during and after the devastation caused by Hurricane Irma, I have grown used to operating in pure chaos and disorder. I expected nothing less from a soup kitchen that is open only one day during the entire week and still manages to feed hundreds of people. Much to my surprise, after seeing a line wrapping around St. Francis Church thirty minutes prior to meal time, I walk through the doors and up the stairs to a seemingly quiet cafeteria filled with over thirty volunteers. I find the other National Health Corps Florida AmeriCorps members and await my assignment for the day from Big Mike.
Upon first evaluation, Big Mike runs the show at St. Francis. His tall stature towers over everyone in the room. His stern voice commands the attention of all of the volunteers. Despite Big Mike's commanding presence, he is incredibly kind and passionate about serving Jacksonville's vulnerable communities, dedicating his time every Saturday to St. Francis. Most notably, he is a former University of Georgia football player, which just so happens to be my alma mater. Obviously, I could not have been happier to find someone who loves Athens, Georgia as much as I do, especially after having a difficult past few weeks adapting to an entirely new city and experiencing my first hurricane. Although Big Mike does not know it, meeting him comforted me. I remember thinking that if a former UGA football player can learn to fit in in Jacksonville, then I definitely can.
Feeling rejuvenated, I was able to enjoy even the mundane task of cleaning off trays. I smiled as I watched a toothless man take his first bite into a slice of cake, and I laughed as a little girl picked out a Reese's cup reserved solely for children and then asked for two. Serving at a St. Francis Soup Kitchen was an extraordinary experience because I, for the first time, felt the community bond that I missed so much in Athens. Sorority girls, soldiers, retired businessmen, and National Health Corps members all serving together, not because we had to be there, but because we wanted to make a stranger's day better by giving them a meal - and that is worth waking up early for on a Saturday, even if I am not a morning person.
---
This blog post was written by NHC Florida member, Ashley Lall.
Ashley serves at THE PLAYERS Center for Child Health as a Patient Navigator.