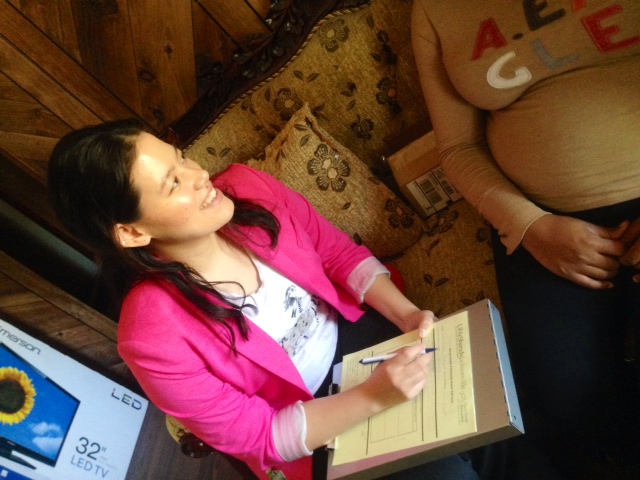 Kim
on a home visit with an expecting mother
Some of the most meaningful experiences I've had during my service term have come from going on home visits.  It's really interesting to meet the clients at their homes, see where they live, and observe how they interact with their family members.
One of the clients that I really enjoyed serving was 15 years old and pregnant.  Because of the training provided by my host site, I was able to educate her on different birth control methods, how to prepare for pregnancy and birth, as well as how to breastfeed.  But sometimes, I was just a listening ear.  Since I was much closer in age to the client than my Nurse Family Partnership (NFP) mentor, I think she was able to relate to me better.  At times, however, I felt like such a hypocrite because I had never experienced those things myself. Who am I to tell someone how to breastfeed?  I've never been pregnant or given birth, let alone breastfed.  Nevertheless, I think when you appear confident in the knowledge you share, people are more receptive to what you have to say.
As the weeks went by, I was able to see the client progress from her 2nd trimester to her 3rd.  Whenever my mentor saw the client, she would tell me that the client had asked: "Where's Miss Kim? Tell her to come see me next time!"  It's nice to know that you're missed – that you're making an impact in that client's life.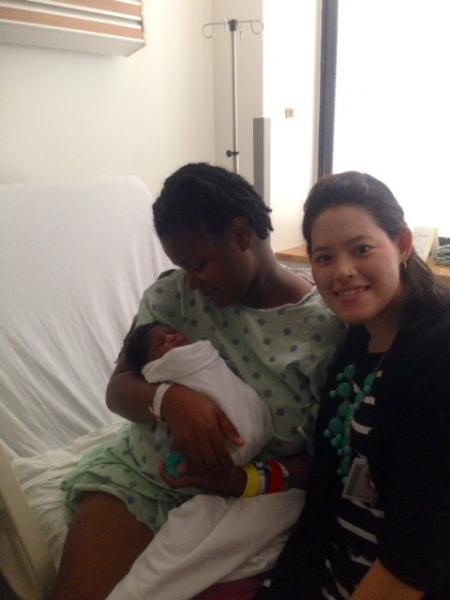 Kim visiting a new mother and her baby
Towards the end of the client's 3rd trimester, a co-worker came to my office to tell me that this client had given birth and was asking to see me. That was a great day!  To be able to visit the client and watch her face light up when I walked in the hospital room was such a good feeling.  "Miss Kim, you came! I was waiting for you!" Her new baby was so precious and looked just like her.  Even though she's only 15, you could clearly see the love that she had for her newborn baby when she held the baby in her arms.
I paint a rosy picture, but my experiences with the client were not always so cheerful.  Dealing with a teenager can be frustrating in any situation – throw in a pregnancy and that adds a whole new dimension.  There were moments when the client would throw tantrums or simply refuse to listen.  Sometimes, you'd scratch your head and wonder how they can't see that the health education you provide is better than the myths they've heard.  But you can't force anybody to do anything.  You only can provide the information and hope that the clients will implement it.
Ultimately, I love the experiences I've had with this client.  The positives far outweigh the negatives.  I've enjoyed watching her progress through her pregnancy and grow into her role as a mother.  I will be sad when my service term ends because I won't be able to personally see any more advancements she makes in life.