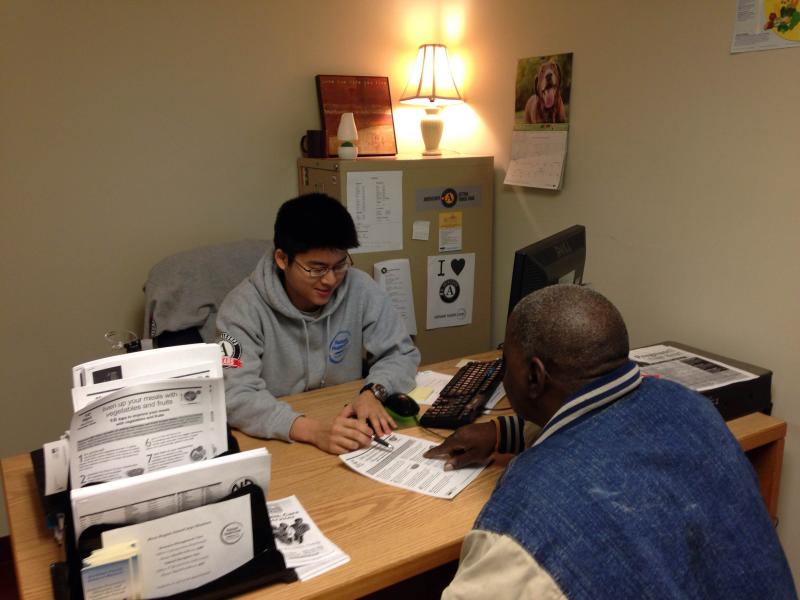 As a Patient Navigator,
Han
, meets with clients to review health education materials and ensure they are prepared for primary and specialty care appointments he is able to schedule for them
It was 8 minutes past 10 o'clock on a Wednesday morning when I hurried onto the second floor of River Region Human Services (RRHS), a non-profit mental health and substance abuse treatment center in Jacksonville, Florida. I was running late to Men's Group – a weekly counseling session where male clients in recovery come together to find their inner-selves through meditation followed by a discussion of various topics ranging from their feelings, emotions, to any challenges that they may be facing.
As I walked into the room, however, I found a group of men staring blankly at me with the lead counselor nowhere in sight. "The counselor is sick. Can we still do the group today?" one guy asked.
Although I have always been a regular participant of the group as the AmeriCorps Patient Navigator at RRHS, I had yet to facilitate one. But it was an offer I could not refuse.
"Sure," I said, agreeing immediately without a pause, not because I was prepared, but because I enjoy listening to their stories, because I wanted to get to know the group better, because I knew they were looking forward to our meeting just as much as I was.
"I was surprised how much I was able to relate to them..."
So I began with a brief meditation as we usually do and proceeded to check in with everyone, asking how they were doing and if they had anything to share. Through our conversations, I was surprised at how much I was able to relate to them– the guilt and shame of making bad decisions in life, the frustration with failures, and the hope to become a better man, a better individual. In addition, many reported to be struggling with issues with health care, medications, and chronic medical conditions. In response, I encouraged the men to focus on the present and to face the future with a positive attitude. I ended the group discussion by reminding them of my role as an AmeriCorps member to resolve problems and how I can help to provide access to health care.
a better man, a
better individual."
Over the next few weeks, I have been able to work with many of the men to successfully connect them to primary care, prescription medication assistance programs, and other outside services. I am very glad that the accidental event on that Wednesday morning played out the way it did. It allowed me to establish a unique rapport with the group and reach out to be part of solution to the many challenges that our clients at River Region face day in and day out.