Over the past four months, I have had the opportunity to get to know many members of the 11th Street Family Health Services community. It did not take me long into my service term to realize that 11th Street is a very special and unique place--comprised of staff, community members and patients from diverse backgrounds and circumstances. 11th Street is not your typical health center; rather, it truly is a community.  While new patients enter 11th Street's doors each day, there are equally as many patients that have been relying on the health center for medical services for over a decade. Many patients and community members who were once strangers to me are now friendly faces who I look forward to seeing each day, whether it be at our cooking classes, yoga sessions or just within the halls of the health center.
As an integrated services Patient Navigator, I meet with patients on a daily basis and educate them about programs at the health center that promote the benefits of healthy life choices. I try my best to encourage patients to become actively engaged in the wellness services offered by the center, such as the nutrition services, creative arts therapies and behavioral health services. I am primarily responsible for recruiting individuals to participate in the ongoing programs offered at the clinic, such as our mindfulness chronic pain group, and connect them with other providers in the center, such as social workers and behavioral health consultants. As the patient navigator, it is my role to be the "expert" on all things 11th Street. Therefore, while meeting with patients, I am able to listen to their needs and inform them about programs or services they may find beneficial and ultimately connect them with that service.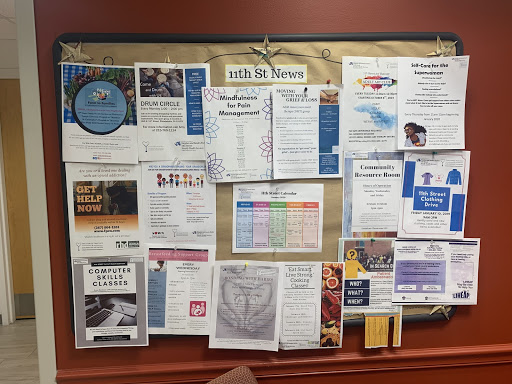 Through personal daily contact with patients, I have learned the power of speaking to individuals--not at them-- and listening and responding to their personal needs and concerns. There is nothing more rewarding than sitting down with a patient who may be battling chronic pain or food insecurity, and reassuring them we have programs and resources in place to provide them with support and solutions. Individuals in my new community are faced with struggles and obstacles that I am fortunate enough to not have had to deal with yet in my lifetime--many that are hard even to imagine. While it may be my role, as patient navigator, to educate community members about the health benefits of wellness services at the health center-- it is I who learn something new everyday. Within the walls of 11th Street there are experts on a variety of issues--ranging from the effects of gentrification to hydroponic tower gardens.
Over the past four months, I have gained a greater awareness of the challenges presented in the delivery of medical services to underserved communities. I have sincerely enjoyed developing relationships with the many patients who rely on the health center for their medical needs and look forward to the experiences and relationships that will emerge in the months to come.