In August, Delaware Valley Community Health (DVCH) was awarded a grant through the Philadelphia Collaborative for Health Equity to work with other local organizations to address health and social inequalities in the community. Specifically, DVCH is collaborating with Philabundance and Vetri Community Partnership to work with the population of patients served by the Maria de los Santos Health Center (MDLS). The goal of the grant is to implement a "collaborative intervention to empower families who access MDLS pediatric health services to mitigate pediatric obesity through family-based education." Through the class, we are providing families with boxes of healthy foods as well as classes to teach skills in healthy meal preparation.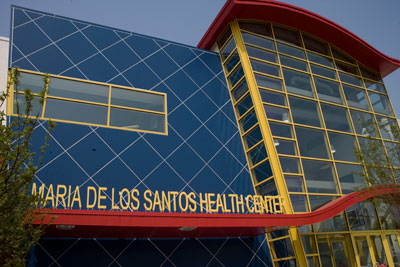 While recruitment and retention can often be difficult in programs such as these, the cohort that we have worked with consistently over the past 6 weeks have proven inspiring with not only their commitment to attend classes and learn about healthy eating but also the fun atmosphere they bring while cooking meals to share together. Because the class encourages family members and children to get involved with meal preparation, all members of the family can be conscious about food decisions they make and take part in the planning and preparation of meals, further strengthening relationships. The meals we prepare are plant-based and contain a wide variety of produce, teaching kids to "eat the rainbow" and think about where they can get all the nutrients they need. Beyond that, though, the children have proven enthusiastic about playing a role in cooking, which hopefully translates to playing a part while cooking at home.
While it is difficult to quantify the impact of teaching about nutrition and healthy eating in the span of eight weeks, we want to focus on long-term impacts. By providing education about nutrition, teaching the skills to prepare meals, and providing information about how and where to purchase nutritious foods, we hope that patients will make healthier choices and improve their life-long health from an early age. We acknowledge the existence of social determinants of health, such as access to transportation or living near a grocery store that sells produce at an affordable price, so we try to provide participants with resources on where they can access food near where they live as well as culturally competent recipes that use shelf-stable items to make cooking more feasible.
As we continue this program and start the next cohort in 2020, we will take the lessons we have learned and feedback from participants to improve and continue to teach people about how to lead a healthier lifestyle.
[Image description: The front of the Maria de los Santos Health Center, which contains a mix of blue, yellow, and red walls and windows.]