As a Patient Navigator at Maria de los Santos Health Center, I have the opportunity to promote healthy decisions across the lifespan. Amongst many projects that focus on patients from the ages of 5 to 75, our greatest focus has been on preventative screenings for patients over the age of 50.
For my first two months, I was immersed in the world of preventative care. My primary role has been to promote preventative cancer screenings. Some of my daily tasks include giving patients colonoscopy and mammogram referrals, or speaking with women from the ages of 21-65 to remind them to schedule a pap test. I am grateful for the opportunity to interact directly with patients and their families. I may explain the general process of a colonoscopy or how to perform a take-home colorectal cancer screening test. I can offer a list of clinics that offer free or low cost mammograms to patients who may not have access to insurance at this time.
One of the goals of preventative cancer screenings for patients ages 50+ is to help seniors age in place. This means that preventative screenings aim to help patients stay independent and healthy for as long as possible. I have learned more about the nature of cancer during my time here. As a young person myself who has not experienced cancer firsthand, it is not something I typically think about. However, reflecting on my time with senior patients, I more frequently consider cancer as a true reality for some. Preventative care emphasizes screenings that could help reduce risks of cancer or identify cancer in early stages when possible. It is a difficult topic to discuss; however, I can see how promoting a perspective of preventative care can offer patients education about their health as well as promote healthy decision-making.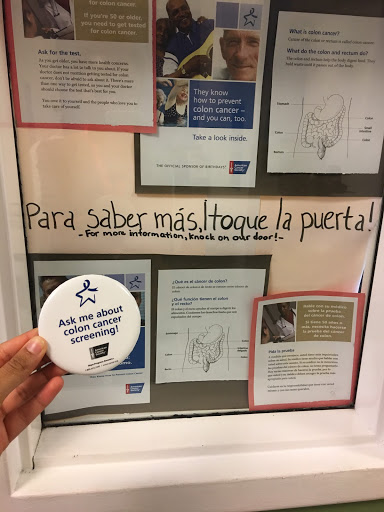 In one of the National Health Corps Philadelphia Pre-Service Orientation trainings, we learned about Motivational Interviewing, a tool used to promote behavior change One of the core principles of MI is that motivation must be intrinsic in order to initiate any behavior change or decision. As promoters of health, it is easy to want to tell many patients to schedule an appointment or to do a screening; however; ultimately that decision must be made by the patients themselves. There must be a clear reason or motivation that brings them to action. It is important to ask open-ended questions, to affirm people's responses, to reflect on what was said back to the patient. Active listening is key.
During my time with the patients, it is important that I make them feel respected and heard.Preventative screenings are important, and I must recognize the sensitivity of the topic to some. Realities could include a lack of insurance to schedule a colonoscopy or a family history of cancer. I try to take these factors into consideration when interacting with patients, and I still have much to learn and apply.
I look forward to the year ahead of me as I get to interact with more patients at Maria de los Santos as well as see patients I've spoken to in the past. I am excited to put into practice some of the topics covered in PSO such as motivational interviewing or trauma-informed care. I have much to learn, and I am grateful to have a role in my health center for promoting decision making that emphasizes preventive care and the holistic well-being of the patients we serve.
[Preview Image description: A provider in a white coat and blue scrubs holds a chalkboard sign that reads "Cancer Prevention"]
[Image Description: NHC Member holds a button that says, "Ask me about colon cancer screening!" in front of a sign that explains colorectal screenings in Spanish and English. In Spanish, a note reads: "Para saber mas, toque la puerta!" which translates to "To learn more, knock on the door!"]