"I will get things done for America --- to make our people safer, smarter, and healthier."
When I begin to reminisce on my time in National Health Corps, I think back on the AmeriCorps pledge I read out loud on my first day. The same pledge I stare at everyday above my desk. As I read the first line, I think about how my position and other positions in NHC all work to make the people of Pittsburgh safer, smarter, and healthier. Within my position I take on many roles that work towards achieving that goal.
One of those roles is when I am at the Auberle 412 Youth Zone. In this role, I accomplish so much, but I especially feel that it helps the youth feel safer, smarter, and healthier. The Auberle 412 Youth Zone is a safe drop-in center for adolescents and young adults that are transitioning out of the foster care system or are experiencing unstable housing in Allegheny County. This center is designed to help the youth gain stability, learn life skills, meet basic needs, and guide them to a better future. My role in the 412 Youth Zone is to provided health education sessions called "Health Talks with Leslie." During these sessions, I try my best to meet the youth where they are at, meaning they choose our health topics and the activity we do. So far this year we have talked about prescription drug safety, vaccines, self-care, nutrition, mental health, and much more.
The 412 Youth Zone provides other educational sessions and life skills sessions for the youth throughout the day, but the health education session I provide is one of the few opportunities the youth have to talk about their health. Having this role within my position has definitely increased the amount of health education exposure the youth need. A number of times, I have spoken one on one with certain youth after a session because they have questions. I make sure they fully understand what we talked about and why it is important. We take as much time as they need to feel confident about what they learned and how they can apply it to their lives. The opportunity to collaborate with the 412 Youth Zone as a community partner has offered me the chance to follow the AmeriCorps pledge.
We all serve in many different roles as care coordinators, health educators, etc. in multiple areas of the community. We work together to ensure the community feels safe and secure with their healthcare choices. As well as confident enough to make smart educated decisions about their health and lastly to help them feel healthier with whatever changes they make. I will be forever grateful for the experience AmeriCorps has provided. Even after this year is over, I will look back on the pledge and ensure to get things done.
"I am an AmeriCorps member, and I will get things done." Now & Forever.
---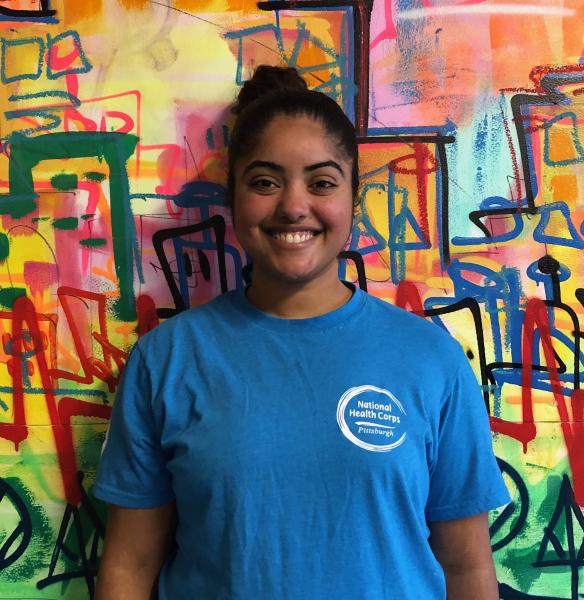 This post was written by NPHC member Leslie Hernandez.
Leslie serves at Children's Hospital of Pittsburgh Adolescent Medicine as a Care Coordinator.