A Thanksgiving Distribution is an annual event organized by the Urban League of Greater Pittsburgh and the University of Pittsburgh Clinical & Translational Science Institute. This year, the event took place on Saturday, November 18 and provided 700 families from southwest Pennsylvania with the ingredients needed to prepare a Thanksgiving meal. The event also held a Health and Human Services Village where families could receive health screenings and information from various human services organizations including Center for Victims, Tobacco Free Allegheny, and Mission Vision. 450 volunteers, vendors, and staff members helped make the event a success.
CHANGE (Children's Hospital Advisory Network for Guidance and Empowerment) is a cross-disability and chronic illness group for 14-26 year-olds. At A Thanksgiving Distribution, I represented CHANGE, informing families about the organization. We hold monthly meetings to work on self-advocacy, particularly in the healthcare setting, and building other life skills including financial literacy and healthy relationships. Through involvement with CHANGE, our members have become experts in not only advocating for themselves and their own health, but also in teaching others what it means to be a good advocate. One of the most valuable aspects of CHANGE is the environment of inclusivity it offers for our members. Each individual is able to be their complete self and feel a sense of belonging.
A Thanksgiving Distribution was a wonderful opportunity to get directly involved with community outreach while sharing information about an organization that is so meaningful for our youth. Part of what made the experience so impactful was the vulnerability expressed by the community members I engaged with over the course of the event. Although they had just met me, some individuals trusted me to hear their story of hardship that they and their family members have faced. This underscored the importance of empathy when someone opens up to you. Although you may not be able to relate or even understand what someone has experienced, empathy allows the individual to trust you and makes them feel like someone cares about the difficulties they have faced. During this holiday season, A Thanksgiving Distribution offered me an opportunity to reflect and realize that although I have always viewed the holidays as a time for happiness and celebration, it can be a difficult and stressful time for many others. It was also a great reminder to myself to be thankful that I am in a position to serve others. Whether I do that through sharing information on health services or simply listening to someone in need of an empathetic individual to tell their story to, it can have a direct impact on one's life.
---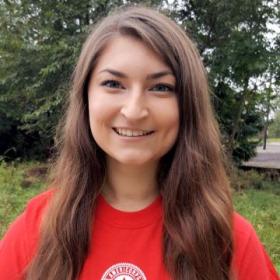 This post was written by NPHC member Jodi Allison.
Jodi serves at UPMC Children's Adolescent Medicine as a Care Coordinator.