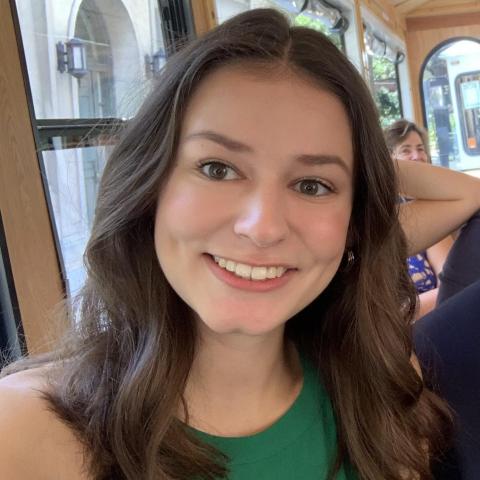 Pronouns:
she/her
Host Site:
Lincoln Square and Roosevelt High School
Position Title:
Health Educator
Where are you from?
Belleville, Illinois - about 30 minutes outside of St. Louis
Why did you decide to join NHC?
Joining AmeriCorps has been a dream of mine since I was 15. However, NHC grabbed my attention more than any other AmeriCorps program because it combined education, one of our most powerful tools, to healthcare. I joined NHC because I want to empower patients vulnerable to health disparities.
Experiencing medical problems, or helping a loved one through theirs, can be a draining process. So much of our health is out of our control that it can make people feel powerless against health problems. Through NHC Chicago in my role as a health educator, I get the privilege of meeting with patients and empowering them through education on their diagnosis, as well as knowledge about what they can do to improve the diagnosis. My patients are my biggest motivators, and I am their biggest cheerleader.
Creating equity within the healthcare world by connecting those vulnerable to health disparities to knowledge is a powerful act of change. Although I will only be a small drop of change in a big world, I cannot think of a greater way to use my time during my gap year.
What are you hoping to gain or learn during your service term?
I hope to gain a better perspective on others who are different from me, and to use this information to continue to help others in the future. I also want to learn about their barriers to healthcare and use creative ideas to uniquely help individuals. 
What are you most looking forward to during your service term? 
I am most looking forward to meeting my patients one on one and becoming friends with my other corps members! Meeting with patients is such a special time, and I look forward to positively impacting their lives and health. I am also excited to connect with others who have similar passions as mine, as well as others who are going through similar experiences as me.