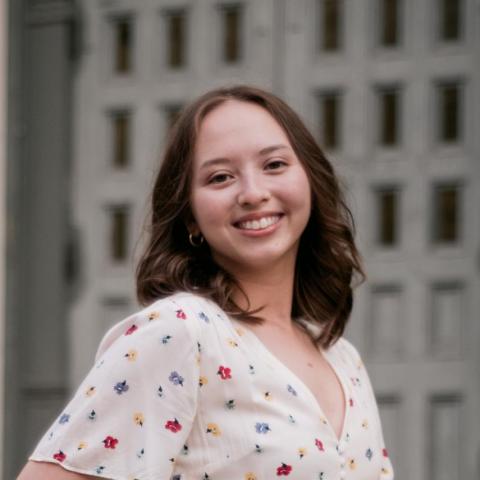 Pronouns: She/Her/Hers
Hometown: Round Rock, TX
Educational background: B.S.A. in Biochemistry with a minor and business and pre-health professions certificate from The University of Texas at Austin
Host Site: Children's Home Society
What is your title and role at your host site? My title is Maternal Health Care Coordinator. In this role I will be serving new and expecting mothers through home visits, outreach activities, and community events to provide education on positive birth outcomes. In the comfort of one's home, I will offer support and guidance to promote a healthy pregnancy and overall wellness for the mother and developing baby. During home visits I will provide one on one health counseling while also screening clients for depression, co-occurring mental disorders, and intimate partner violence to refer them to the appropriate resources. In addition, I will help clients navigate community and mental health resources as well as Healthy Start services for women and children.
Why did you join the National Health Corps Florida AmeriCorps program? During my gap year, I wanted to join a service-related program where I could gain experience in a clinical setting and the National Health Corps was the perfect fit! I wanted to gain hands-on experience in a community health position interacting directly with patients and learning valuable skills that would equip me to be the best future physician possible. While my time shadowing a gynecologist gave me a glimpse into the life of a physician in women's health, there is still much for me to learn about the barriers experienced by women and children seeking healthcare.
What are you hoping to gain from your year of service? From my year of service, I aim to connect with women in underserved communities of Jacksonville, learn from their experiences, and most of all, support them throughout their pregnancy journeys. I strongly believe that true service begins with the human connection, so I hope that through remaining open and honest I can connect with my clients and provide them with a memorable service experience! Through my service, I also hope to gain a better understanding of the health disparities underserved communities are afflicted by so I can address and overcome these disparities in my future career. Lastly, during my service year I want to explore Northeast Florida and get to know my NHC cohort!
What are your plans after AmeriCorps service? After my AmeriCorps service, I plan to attend medical school! I am currently interested in a variety of specialties including obstetrics and gynecology, pediatrics, and psychiatry so the opportunities are endless. Whatever path I choose, I plan to utilize the skills I gain as a community health worker to continue working to reduce health disparities and to promote sustainable health education for the public.
Where do you envision yourself in 5 years? In 5 years, I envision myself finishing up medical school, beginning residency, and continuing to serve my community in Texas. I also see myself continuing to play the flute and hopefully fitting in some international travel!