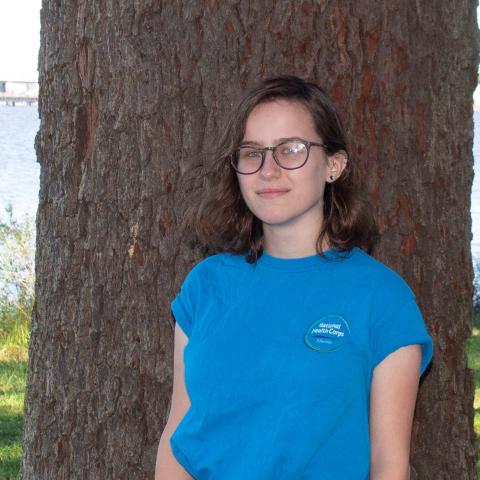 Hometown: Somerset, NJ
Educational background: B.A. in Psychology with a minor in Women's, Gender, & Sexuality Studies from Ramapo College of New Jersey
What is your title and role at your host site? 
As the Care Coordinator, I provide health education, health screenings, and social services for at-risk LGBT youth. I support JASMYN's ACCESS Program for youth in crisis, provide health education regarding nutrition, substance abuse, and STIs/HIV, further develop their substance abuse and mental health services, and help youth access housing, job, and health resources. Moreover, I create and maintain community partnerships to ensure our clients can receive the services and healthcare that they need.
Why did you join the National Health Corps Florida AmeriCorps program?
After serving with City Year Tulsa, I knew I wanted to continue serving but specifically in a public health capacity. Specifically, I wanted to gain experience conducting sexual health education as well as working with adolescents and LGBT individuals. I can see first-hand how inadequate health education hurts our youth, especially LGBT youth. I knew serving with NHC Florida would not only allow me to gain such experience and make a difference in this realm, but would also allow me to serve alongside other committed corps members and learn from public health professionals in Jacksonville. 
What are you hoping to gain from your year of service?
I not only want to gain hands-on public health experience but also really understand the complexities of our healthcare system and the primary barriers that prevent individuals from accessing adequate healthcare. Moreover, I want to increase my cultural competency by working with diverse populations across race, ethnicity, class, and sexual orientation. I want to make a real difference in the lives of others and leave service feeling fully prepared for a career in public health.
What are your plans after AmeriCorps service?
I plan on pursuing my Master's in Public Health with a focus on sexual health and/or LGBT health.
Where do you envision yourself in 5 years?
Preferably, I would love to work as a sexual health educator in schools or work in HIV/AIDS prevention.