Platform to Professionalism
When I initially decided, as a junior, to take a gap year after college, I did so begrudgingly. Slightly envious of my peers who had a concrete career path already planned out and worried that I was delaying my own professional journey, I wasn't thrilled by the prospect of a gap year. However, as I had progressed through college and discovered that I was interested in a variety of fields and curious about many different careers, I knew that I needed more time to think about where I belonged and what to do next. Once I chose to take a gap year, the pressure to make a quick, major decision in the midst of uncertainty turned into an opportunity to focus on developing skills and gaining field experience to better equip me to choose my next steps. Now about half way through my gap year with NHC Chicago, I view my gap year not with begrudgement, but with great gratitude.
I did not understand the true value of substantial field experience until I gained access to it this year. As a college student, I had opportunities to volunteer in hospitals, interact with patients, and observe health care teams in action–but these were typically confined to weekly three-hour shifts. I was an outsider briefly stepping in for a designated time each week. Now, however, I am fully integrated into the team of a Federally Qualified Health Center and get to focus full-time on interacting with and learning from both patients and health care professionals. At Tapestry 360 Health, I constantly have opportunities to observe, speak with, and collaborate with registered nurses, physicians, nurse practitioners, medical assistants, physician assistants, behavioral health consultants, and patient support specialists.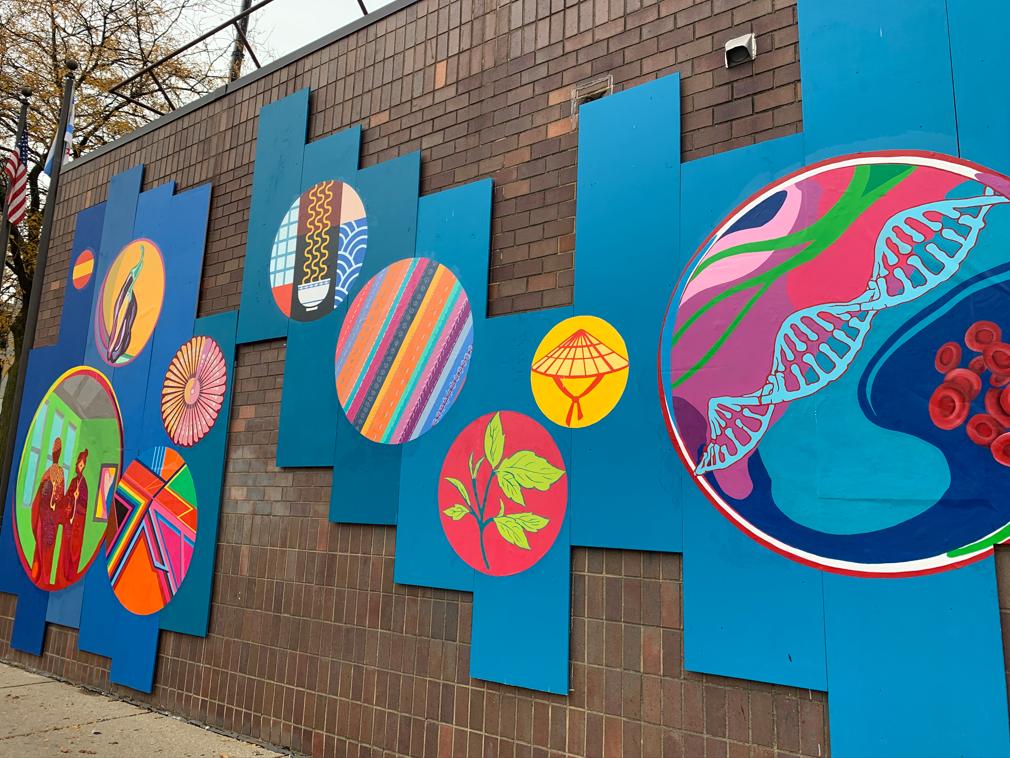 I often find myself feeling a sense of awe at the hands-on opportunities granted to me as a Health Educator. AmeriCorps positions are unique because they must fulfill a criterion of non-duplication, meaning that members cannot perform services that host site employees also perform, and our roles must primarily involve direct service rather than administrative tasks. This gives us an opportunity to fill gaps and offer new avenues of support for patients at our host sites. As a Health Educator, I meet with patients one-on-one as well as in group settings to provide counseling on topics such as diabetes, hypertension, smoking, mammography, and general nutrition. Through this health education, I truly feel as though I am valuably supplementing the clinical services that the Tapestry health care team provides. In a clinic that has many patients who need many services, providers are pressed for time. As a Health Educator, however, and as someone looking to gain experience through a gap year, I have more time to delve in depth into patients' lifestyles so that we can thoroughly assess their needs and develop personalized plans to promote their well-being.
Not only am I grateful for the unique opportunities in which I get to engage during my gap year, but my role as a Health Educator is also giving me ideas and inspiration for my time beyond AmeriCorps. As I gain experience each day counseling patients, I am developing confidence that I can carry health education into future phases of my life to continue impacting the communities in which I will find myself. As a future medical student and, eventually, physician, I want to make preventive and holistic health foundational to my medical education and career, drawing on topics my gap year has allowed me to explore.  
As I continue gaining field experience over the course of my gap year, I am confident that I will be a much more knowledgeable, prepared, and competent professional because of it. My gap year is not really a gap between my undergraduate studies and future career, but rather a stepping stone and platform that will guide where I go next and the perspective I will bring. Once an anti-gap-year pre-med student, I now believe that every pre-med student would benefit from a gap year and am certain that I will be a more effective and empathetic physician because of mine
HHC/Tapestry 360 Health-Albany Park
3737 W. Lawrence Ave., Chicago, IL 60625

HHC/Tapestry 360 Health-Devon
1300 W. Devon Ave., Chicago, IL 60660

HHC-Lakeview/Tapestry 360 Health
3048 N. Wilton Ave., Chicago, IL 60657

HHC-Lincoln Square/Tapestry 360 Health
2645 W. Lawrence Ave., Chicago, IL 60625

HHC-Wilson/Tapestry 360 Health
845 W. Wilson Ave., Chicago, IL 60640

HHC-Hibbard Elementary School/Tapestry 360 Health
4930 N. Sawyer Ave., Chicago, IL 60625

HHC-Senn High School/Tapestry 360 Health
5900 N. Glenwood Ave., Chicago, IL 60660

HHC-Kilmer Elementary School/Tapestry 360 Health
6700 North Greenview Ave, Chicago, IL 60626

HHC-Sullivan High School/Tapestry 360 Health
6631 N Bosworth Ave, Chicago, IL 60626

HHC-Roosevelt High School/Tapestry 360 Health
3436 W. Wilson Ave., Chicago, IL 60625


HHC/Tapestry 360 Health-Albany Park
3737 W. Lawrence Ave., Chicago, IL 60625

HHC/Tapestry 360 Health-Devon
1300 W. Devon Ave., Chicago, IL 60660

HHC-Lakeview/Tapestry 360 Health
3048 N. Wilton Ave., Chicago, IL 60657

HHC-Lincoln Square/Tapestry 360 Health
2645 W. Lawrence Ave., Chicago, IL 60625

HHC-Wilson/Tapestry 360 Health
845 W. Wilson Ave., Chicago, IL 60640

HHC-Hibbard Elementary School/Tapestry 360 Health
4930 N. Sawyer Ave., Chicago, IL 60625

HHC-Senn High School/Tapestry 360 Health
5900 N. Glenwood Ave., Chicago, IL 60660

HHC-Kilmer Elementary School/Tapestry 360 Health
6700 North Greenview Ave, Chicago, IL 60626

HHC-Sullivan High School/Tapestry 360 Health
6631 N Bosworth Ave, Chicago, IL 60626

HHC-Roosevelt High School/Tapestry 360 Health
3436 W. Wilson Ave., Chicago, IL 60625