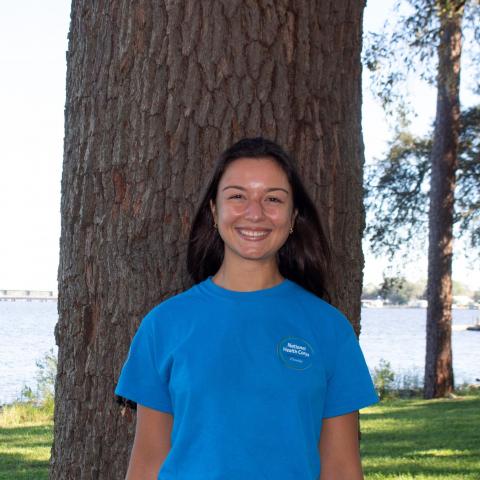 Hometown: Weston, Florida
Educational background: Bachelors of Science in Biology and Health and Society, Bachelor of Arts in Human Rights
What is your title and role at your host site? 
I will be serving as a patient navigator at the Sulzbacher Center Beaches Medical host site. The center seeks to empower and improve the quality of life of homeless and at-risk populations through health, housing, and income. In my role, I will assist patients at the Sulzbacher Beaches Clinic in understanding eligibility forms, validating their own eligibility for care, and the process of receiving medical services at the center. In order to do so, I will be consulting patients in gaining access to all resources both in and outside of Sulzbacher that can help them to improve their standards of living, managing the prescription assistance program (PAP), and providing health education to patients.
Why did you join the National Health Corps Florida AmeriCorps program?
Throughout my four years in university, I noticed that to achieve health requires more than just medical treatment. It requires resources, access, education, and people who listen. I found NHC Florida and saw it as an opportunity to understand how to better serve populations who do not have resources that I and others around me take for granted. This is an opportunity for me to better serve the community, and make a larger impact on health by understanding what diverse populations require and providing it. 
What are you hoping to gain from your year of service?
I hope to better understand how to be an advocate for all patients. In interacting directly with patients from various backgrounds each day, I hope to learn how best to serve a wide variety of individuals in a way that is considerate of their own situations and helpful not only to their immediate health but also to their long-term health outcomes. Additionally, I seek to understand what resources are available to patients alongside what resources and policies are still necessary to make sustainable health easier for all to attain. 
What are your plans after AmeriCorps service?
I plan to go to medical school to become a physician.
Where do you envision yourself in 5 years?
In five years, I will either be beginning my residency or finishing up my studies as I plan to pursue an MPH during medical school so as to strengthen my ability to make structural changes for the betterment of patients and medical staff.