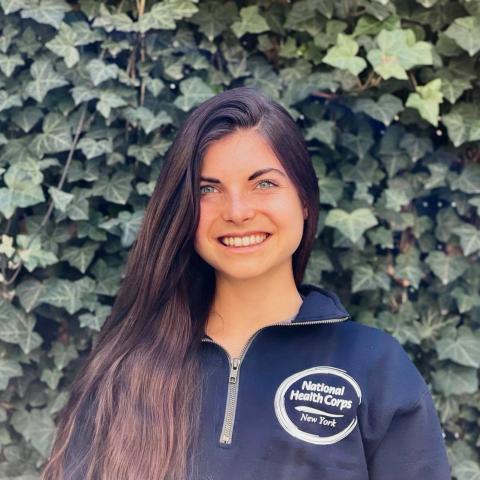 Pronouns:   
She/her  
Hometown:   
Lock Haven, Pennsylvania   
Educational Background:
Susquehanna University- neuroscience/ biochemistry/ 2020  
What is your title and role at your host site?  
Poughkeepsie family partnership  
Why did you join the National Health Corps New York AmeriCorps program?  
I've sought out volunteer experiences and mentorships throughout my life that have allowed me to grasp the community outreach aspects of medicine and absolutely fell in love. Dr. Donato, a physician who mentored me during my career exploration, made certain that I understood the importance of service. He told me, "The greatest accomplishments you're going to achieve in medicine aren't tangible; but rather the positive impact you can make on an individual's life and the community." As my interest in medicine solidified, I have carried his words with me with the hope of impacting both my future patients and the community. In the interest of experiencing outreach to the underserved and being in a team atmosphere, he National Health Corps New York AmeriCorps program was a perfect fit. I am doing just this as a national health corps member serving at Sun River Health to improve care quality and access for those in need. Growing up in a rural area and seeing the health care disparity motivates me to return to a community as a physician to deliver health care to vulnerable and underserved populations. Providing service in this way means building relationships and I desire to continue forging meaningful relationships with patients during my time as a national health corps member.  
A fun fact about me:  
I applied to be on chopped   
What has been the most meaningful part of service for you?  
The most meaningful part of service for me is forming meaningful relationships with the patients, volunteering in the community, engaging in community outreach, and ensuring that every individual has access to the health care they deserve!