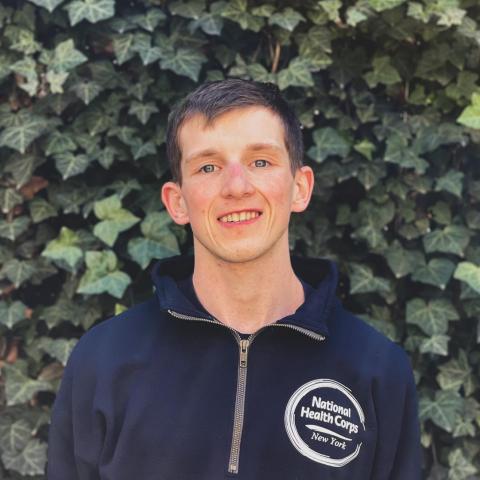 Pronouns:   
He/him  
Hometown:   
Pleasantville, New York  
Educational Background:   
University of Notre Dame / Chemical Engineering with a Biomolecular Concentration / May 2020  
What is your title and role at your host site?  
I serve primarily at the Sun River Health Jeannette J. Phillips Health Center in Peekskill but also at other sites throughout the Hudson Valley. I serve in the Nutrition Department and my roles include developing health education materials for patients; promoting physical activity and proper nutrition for patients with, or at risk for, chronic conditions (HIV/AID, Diabetes, Hypertension...); and assisting the implementation and improvement of Sun River Health food insecurity programs across various sites.   
Why did you join the National Health Corps New York AmeriCorps program?  
Service has always been a central aspect of my life. For a gap year before medical school, I knew early on I desired to dedicate a year to service. I want to help improve my local community and aid the medically underserved populations. Additionally, I hope to gain new skills and experiences; develop a deeper understanding about community and personal healthcare; and foster relationships and teamwork with other service members and healthcare professionals, in order to improve my abilities for a future medical vocation. Further, proper nutrition and exercise have been a key interest and a major aspect of who I am. I hope to utilize my knowledge and skills in these areas to improve the health of others. NHC is a perfect opportunity to accomplish my goals for a gap year.  
A fun fact about me:  
I am a sweet potato connoisseur. I love sweet potatoes and have them almost every day. (Did you know there are 5 main types of sweet potatoes?)  
What has been the most meaningful part of service for you?  
One of the most meaningful parts of service for me have been interacting with patients and the gratitude they express when I help them learn about nutrition or help them access fresh health food.  I also enjoy collaborating with fellow NHC members and various health professionals to complete different projects and the sense of community that has resulted.