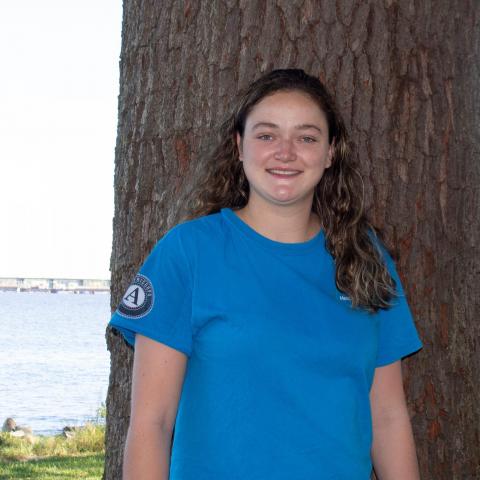 Hometown: Lexington, Massachusetts
Educational background: Bachelor of Arts (Sociology) and minors in Health Studies and in Women, Gender and Sexuality studies from Fairfield University 
What is your title and role at your host site? 
As a Patient Navigator at the Sulzbacher Center Pharmacy, I will spend the majority of my time assisting Sulzbacher Center clients with obtaining affordable medication. I will do this by screening patients for the Patient Assistance Program (PAP) eligibility and helping them enroll in PAP programs that provide free prescription medication. I will also provide patient education on medications that they receive through the PAP program as well as on lifestyle changes that patients can adopt to better support their treatment plans.  I will have the opportunity to provide health education classes on topics such as mental health, nutrition, exercise, tobacco cessation, opioid misuse prevention, chronic obstructive pulmonary disease, and diabetes. 
Why did you join the National Health Corps Florida AmeriCorps program?
I decided to join the National Health Corps Florida AmeriCorps program to dedicate a second year to helping increase healthcare access for a vulnerable population. Last year, I worked in the community health department of a non-profit social service agency in Scranton, Pennsylvania. I am looking forward to learning more about the residents of northeastern Florida and the needs of homeless individuals. 
What are you hoping to gain from your year of service?
During my year of service I am hoping to gain a deeper understanding about community health and issues faced by individuals who are homeless and lack adequate health insurance. I hope to gain confidence and knowledge that I will use in my public health career.  I am also looking forward to developing my professional and leadership skills.
What are your plans after AmeriCorps service?
After my year of service with AmeriCorps I plan on pursing a master's degree in public health. My goal is to focus on health education and increasing access to affordable health care. I hope that while I am in graduate school I can work part time for a non-profit.
Where do you envision yourself in 5 years?
In 5 years, I hope to be using the master's degree I earned in public health to work in the public health field, doing a job I enjoy. This might be at a local non-profit agency or at a governmental agency, working on healthcare education and increasing access to healthcare.