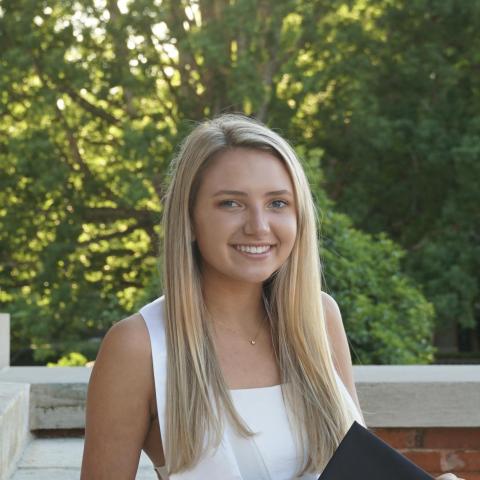 Hometown: Charlotte, NC
Educational background: BS in Language and International Health with an emphasis in Spanish and Health Administration
What is your title and role at your host site? 
I am serving as a Care Coordinator at the PLAYERS Center for Child Health at Wolfson Children's Hospital. In this position, I will be helping to identify the uninsured and assist with Children's Health Insurance Program (CHIP) enrollment in order to increase access to care. I will do this by assisting with applications and making follow-up appointments. I will also identify community agencies that can serve as a referral partner for the uninsured population. In addition to this, I will be leading educational classes for children and families about safety, hygiene and nutrition to emphasize preventative healthcare.
Why did you join the National Health Corps Florida AmeriCorps program?
I joined the National Health Corps because it is a great opportunity to be able to serve first hand and combat today's most pressing public health concerns. As a student of public health, I wanted to continue my real world experience of working with vulnerable and underserved populations. Additionally, I have always had a passion for helping others, and I am grateful to get to do that while gaining hands-on public health experience. I am also hoping that I will have a better grasp of which area of public health I want to pursue in the future.
What are you hoping to gain from your year of service?
I am hoping that I gain the knowledge to better serve populations in need in the future by working hands-on with a medically underserved population. During this year, I want to further develop my leadership and communication skills and my ability to connect with patients. Additionally, I hope to improve my project coordination, health communication, and group facilitation skills so that I gain the abilities to better initiate and coordinate healthcare interventions in the future. Lastly, I hope to learn about the shortcomings in our healthcare system and the most pressing public health concerns that our nation currently has to most effectively implement change.
What are your plans after AmeriCorps service?
After my AmeriCorps service, I plan to pursue a master's degree in Public Health with a focus on Epidemiology.
Where do you envision yourself in 5 years?
In five years, I hope to be working as an Epidemiologist in a public health capacity assessing the needs of communities and establishing community education programs, while also advocating for health care policies that support medically underserved populations.