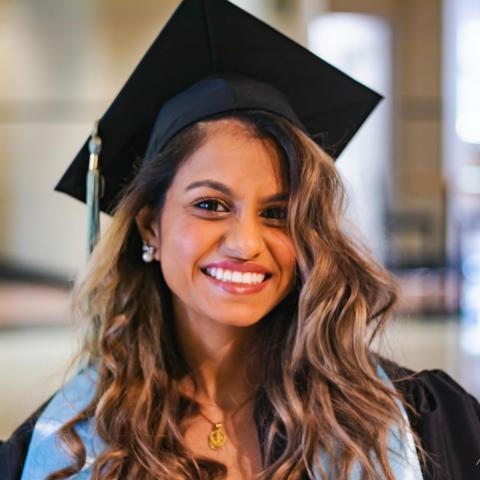 Pronouns: She/Her/Hers
Hometown: Jacksonville, Florida
Educational background: B.S. in Health Sciences with minors in Health Service Administration from University of Central Florida
Host Site: University of Florida Shands Jacksonville Medical Center, JAXHATS Program
What is your title and role at your host site? My title is Patient Navigator. As patient navigator, I will be responsible for numerous tasks such as screening patients for health concerns, submitting patient applications for medication assistance, and creating social service resources for my clients. I will also be responsible for providing patients and their families with the necessary tools, and resources to easily transition from pediatric to adult based systems such as insurance planning, education, and self-advocacy skills.  
Why did you join the National Health Corps Florida AmeriCorps program? Having lived in Jacksonville for the majority of my childhood, I have witnessed the different sections of the area that desperately need help. I believe that it is my duty and responsibility to use my experience and privilege to be able to serve and give back to the community that helped raise me. National Health Corps was exactly what I had envisioned in wanting to better serve the area of Jacksonville. In my year of serving with NHC, I believe I will gain a better understanding of the society I grew up in and hope to make healthier changes for a better future.
What are you hoping to gain from your year of service? In my year of service, I hope to gain a better understanding of the world we live in. I believe that learning more about the background of healthcare and the struggle of access will help me become a better physician in the future. More importantly, I hope to learn more and grow into the best version of myself while serving. I believe community service is not just volunteering, but a learning experience for yourself and others and I hope to carry the knowledge I gain into my future to create a safer, and healthier environment for the community. 
What are your plans after AmeriCorps service? After my AmeriCorps service, I plan to attend graduate school in hopes of becoming a Physician Assistant. During my gap year, I plan on gaining multiple certifications in the health field to become well rounded and hope to travel as much as I can.
Where do you envision yourself in 5 years? In 5 years, I envision myself to be working in rural areas as a Physician Assistant and continue to serve in the community.