Happier and Healthier, One Box at a Time
Hi everyone! My name is Joelle (she/her), and I am from San Ramon, CA. I am currently serving as a Quality Improvement and Diabetes Care Coordinator at HealthRIGHT 360. Some of my responsibilities include conducting patient outreach to connect patients to primary care services at the Integrated Care Center, working on various quality improvement projects, and running the Food Pharmacy in partnership with the Food as Medicine Collaborative.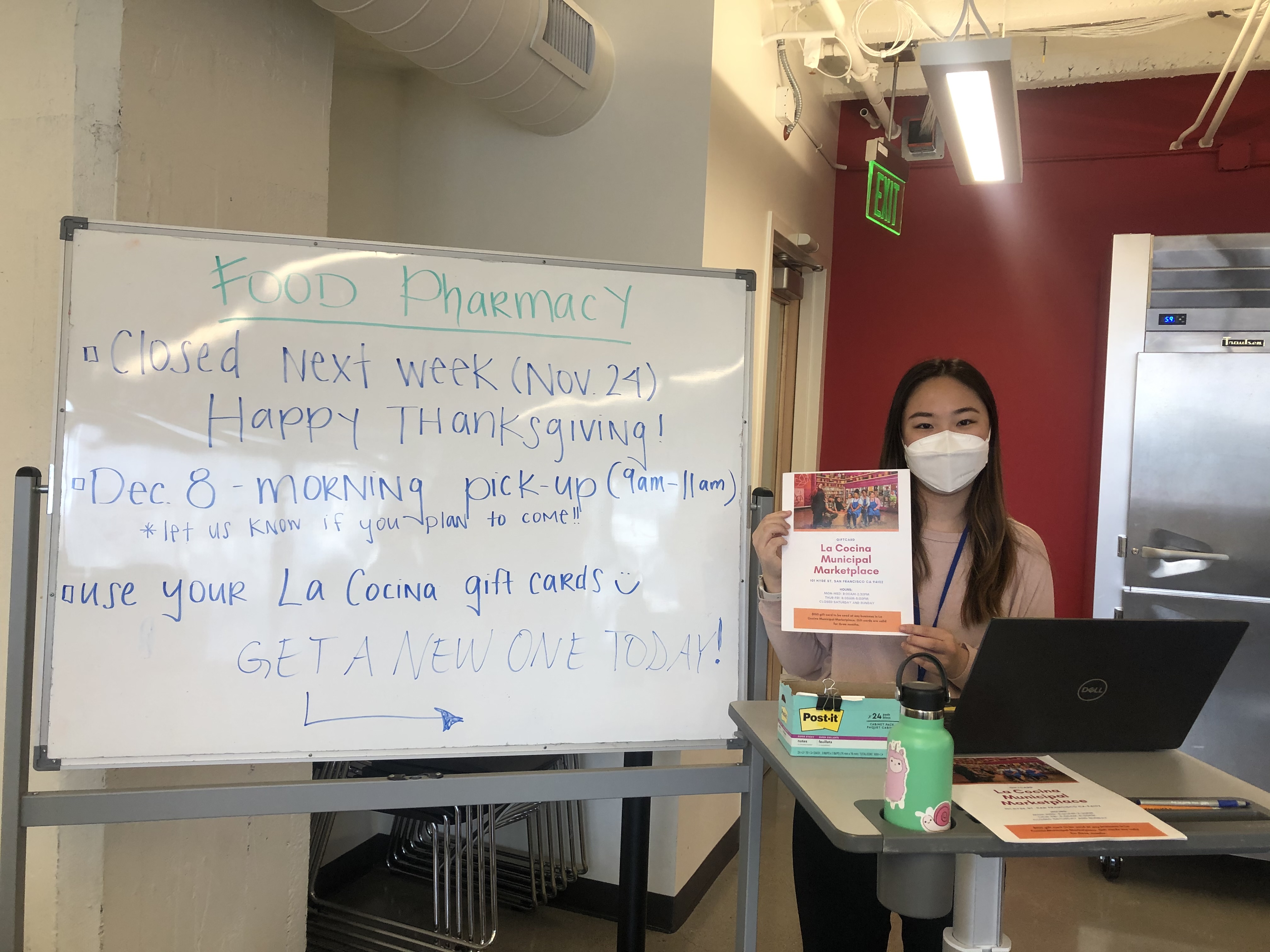 The prevalence of chronic diseases has only been increasing over the past few decades, and we have much work to do to reverse this trend. In fact, according to the CDC, just over 50% of U.S. adults had at least 1 chronic disease, such as heart disease, diabetes, stroke, kidney disease, and cancer, in 2018. These conditions are also some of the leading causes of death and contribute to 75% of healthcare costs in the U.S. In addition, individuals from communities of color and who experience poverty are disproportionately at a higher risk of developing chronic diseases, as they are less likely to have access to high quality medical care due to obstacles such as financial barriers and discrimination.
While addressing chronic disease prevention in healthcare settings, it may seem straightforward to tell patients to "eat healthier," but the reality is much more complicated than that. While taking a class on health disparities in college, I came across the idea of how spatial inequalities contribute to community health outcomes. For instance, "food deserts" illustrate how the geographic area in which individuals live has grave consequences for their ability to make healthy choices in eating. In combination with the high cost of living in urban areas like San Francisco and rising food prices (9.9% increase in 2022 alone), having consistent access to healthy foods is a privilege that is unattainable for many. 
In addition to receiving comprehensive care services at HealthRIGHT 360, patients are also able to enroll in the Food Pharmacy, a weekly program that provides nutrition education and fresh, high-quality produce for those experiencing food insecurity. When looking back at my service term thus far, I can recall a time when I had overheard a long-time Food Pharmacy patient sharing exciting news to Mariana Carranza, former dietician at HealthRIGHT 360, that they recently found out that they were no longer pre-diabetic. Although nutrition education is only one aspect of medical care that can improve overall health outcomes, it is moving to see how a simple act in handing out healthy recipes and fresh produce boxes to patients can help lead to a lasting impact on their health and well-being.