When I signed up for my role with the First Coast YMCA Association, I did not know entirely what to expect. I knew I would be leading a pilot program at two branches, and expected to face many opportunities to be creative with the design and implementation of the program. But at the same time, I had no idea how many realizations I would come to make, and a newfound appreciation I would come to have throughout my service term. My position as a Care Coordinator for the Winston and Williams Family YMCA was unique in that I was the first AmeriCorps member to serve at these two branches. My newfound appreciation came from serving senior YMCA members over the age of 60 at risk for social isolation and loneliness, something that has never been done before across the First Coast YMCA Association. It was not long after starting my position when I truly understood the significance of leading a pilot program, and how that would impact my service term, and ultimately my future career as a public health professional.
The goal of the It Benefits to Belong program is to target YMCA members over the age of 60 who are at risk for social isolation and loneliness and connect them with other YMCA members and social wellness events around the Y and surrounding community. However, the program's goals could not have clashed more with how the COVID-19 pandemic impacted the social lives of seniors. As a result, the program became that much more relevant and needed to combat social isolation and loneliness among this age group. Back in the winter, while making phone calls to recruit participants to the program, I received a lot of "I'm not ready to be around people yet", "I don't feel comfortable", and probably the most common, "I'm waiting for the vaccine." But this program and my service term with AmeriCorps was not about to be cancelled, so I had to figure out a way to jump this hurdle and connect with this population group in a way I have not experienced ever before. I made that jump using three vital skills: active listening, motivational interviewing, and empathy.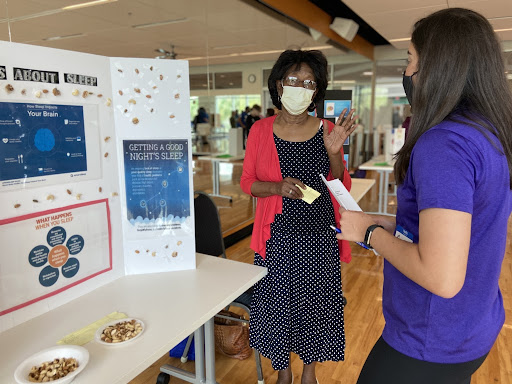 As time went on and vaccines got distributed, more and more seniors started coming back to the Y and restarting their memberships, but only to be greeted with an all-to-familiar challenge they face routinely: technology. While seniors were mustering up the courage to get the vaccine and return, the Y was making adjustments to continue functioning throughout the pandemic virtually. From my very first day at the Y, I noticed how frustrated and fearful the seniors were towards their "high-tech" phones that they had no idea how to use. I remember one of them telling me that she would become intimidated just by looking down at her phone. Just think about it, the pandemic, seniors, and technology; the three don't entirely mold together smoothly do they. So after recognizing this apparent need, and wanting to make sure the seniors weren't being left behind, I started offering help with their unique questions that they come up with about their phones. Before I know it, they are all starting to ask me when they can book an appointment with me for tech help. I soon came to the decision that we needed to have an event in which "young tech-savvy people" along with myself can help multiple seniors at once, and hence the tech workshops were born, something I believe would be a fantastic service to provide routinely at the Y. Helping seniors with their devices helped me realize something about myself: I have a certain level of patience when I am sitting down with them for hours setting and resetting passwords, or even helping them jog their memories of the four-digit passcode they didn't realize they set to simply unlock their phone. I am grateful for them helping me learn something new about myself, so for that I thank them in return.  
Although there continues to be  a running list of challenges and obstacles to hurdle in this position, I still feel extremely lucky everyday at my host site because of my seniors. This population group is often forgotten about and overlooked when it comes to their health and well-being, and healthy aging. Seniors are at a higher risk for social isolation and loneliness, and that alone can have severe effects on their mental health. All it takes is one question to ask. One conversation to have. One person to take the time to ask how their appointment went, how their weekend went, or how they performed in the senior olympics this past weekend. All they want to do is have someone to talk to, and sometimes that is simply the only medicine they need. I am thankful for finding this position, for the YMCA choosing me, and for every senior I get to talk to everyday. I am thankful for my overall AmeriCorps experience now having me think about concentrating my public health career around improving seniors' ability to age independently together.