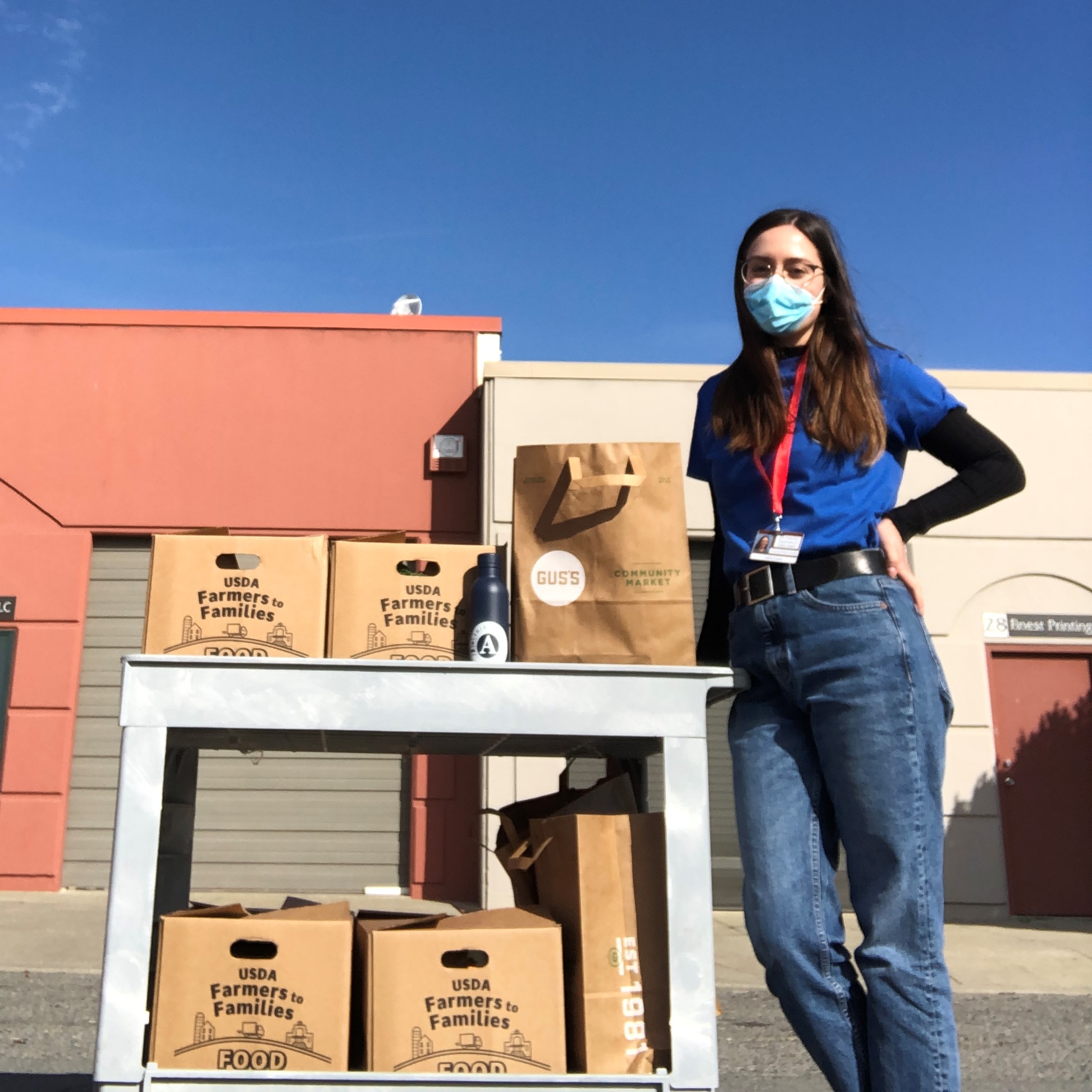 Hi! My name is Adelle and I'm originally from Joplin, Missouri. I've been living on the West Coast for a few years now (in 3 different cities), participating in various experiences that forged a path to my current AmeriCorps service. Notably, I received bachelor's degrees in philosophy and biology from the University of Washington, served at a homeless women's center for a year, and prepared to attend medical school by shadowing physicians in a state prison in San Diego. I'm excited for the opportunity to write this blog and showcase my present service activities while encouraging others to start thinking of, and using, food as medicine. 
In our modern world, food has become more of a fashion statement or status symbol than a simple element used to nourish our bodies. When I think of peaches, for example, I immediately imagine the peach-print shirt I'm sewing or the evocative peach emoji. Celebrities even choose names such as Apple or Olive for their children  
Although I see potential value in incorporating food items into different realms of life, I want to create a space where we consider food to be not only fashionable, but a necessary part of our everyday lives and an indispensable tool for improving our health. As a Food Access Coordinator with the Food as Medicine Collaborative in San Francisco, I feel that I'm able to get back in touch with what food is really for and what impact it can have on people's lives. My position – which entails calling and inviting patients to the Southeast Health Center Food Pharmacy each Thursday, designing recipe cards and food resource flyers to hand out every week, and distributing boxes containing fresh produce to patients on program days – places me at a crucial junction between food and healthcare.  
I can see firsthand how my service activities are helping to reintegrate patients into the clinic system and inspiring them to take an active role in their health. Many Food Pharmacy patients have mentioned to me that because they're already at the clinic to pick up food, they often make appointments to see their physician on the same day. I've also seen some people receiving their COVID-19 vaccine before swinging by Food Pharmacy. These interactions are huge positive steps for my patient population, which has been consistently oppressed and traumatized by the medical community, and I hope the Food Pharmacy program can continue to be a stable and safe bridge into more comprehensive healthcare.  
Another exciting result of my service has been the creativity and enthusiasm my patients show in their kitchens. They have recently described to me some of the incredible meals they've made with the produce from Food Pharmacy; one patient found an unconventional (but delicious) use for carrots in a carrot-sweet potato pie, while another patient modified a cabbage and chicken stir-fry recipe from a handout to include even more colorful vegetables and nutrients. To an outsider, my patients' interest in making healthy meals may seem like a small life change, but to me, their endeavors demonstrate that they feel a sense of autonomy, empowerment, and control over their health.  
Moving forward, I want us all to feel comfortable playing with the meaning and uses of food. Food can offer a pathway to healthcare, strengthen community bonds, and inspire people to craft masterpieces in their own kitchens. During my time as a Food Access Coordinator, I have seen how handing a bag of green grapes to a patient can improve their week, and, on the flip side, how chatting with my patients at Food Pharmacy always brightens my day. In the months to come, I hope to deepen my mutually beneficial and meaningful relationships with my patients and – above all else – remind everyone that food is a vital part of our health and happiness.  
25 Van Ness Avenue, San Francisco, CA 94102
25 Van Ness Avenue, San Francisco, CA 94102