Striving for equity during unprecedented times by Ruwaydah Sideek
When I started my service term, I knew my role would be drastically different than it was before the pandemic. However, the pandemic has allowed me to witness how COVID-19 has more apparently brought to light the health disparities that have disproportionately affected underserved populations for decades.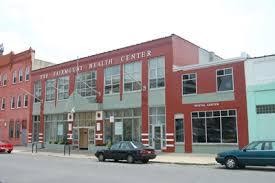 I serve at Fairmount Primary Care Center where I work closely with my patients as a Care Navigator to be their bridge to community resources including food, housing, transportation, preventive cancer screenings, and COVID-19 testing. The first half of my term, I quickly learned that our patients were not always receptive to receiving mammograms, colonoscopies, and vaccines. At first, this shocked me. Through talking to providers and learning more about our predominantly African American patient population, I have become more aware of the distrust in medicine that is warranted due to years of mistreatment and dismissal, but also deeply concerning.  
Since January, I have been helping run the COVID-19 vaccine clinic along with my team at our health center, administering about 50 vaccines a day to our patients. Each day, I am eager to do my part in getting our community vaccinated. As the first person the patient sees before getting their shot, I always look forward to the conversations that come along after I pose the question "Are you excited to get your first shot?". The mix of excitement and nervousness that I see when I interact with these patients and the role that I play to reassure them is what makes my work at the vaccine clinic more meaningful.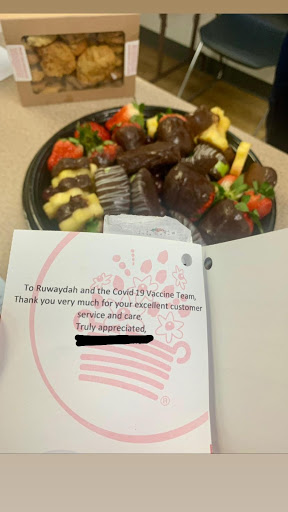 However, I have also witnessed many patients decline the vaccine due to rumors and the fact that they've never received a vaccine before. The challenge with my involvement in the vaccine clinic has been outreaching to a large volume of patients with the goal of getting people on the schedule as opposed to spending more time with the patients that decline the vaccine, understanding where they're coming from, and giving them more reliable information. The time sensitivity and unpredictability of vaccine rollout has put a strain on equitable distribution. During the first few weeks, I noticed that less than half of the people coming to receive the vaccine were our patients. However, our team has been diligently working towards making vaccine distribution more equitable and available to our underserved patients through education outreach and provider referrals. Transportation has also been a huge barrier for our older patients that want to get the vaccine which has led to a large number of no shows/cancellations. I hope to navigate through these challenges along with my team and strive towards making vaccines more accessible to our patients throughout the rest of my service term. As a future healthcare provider, I want to be aware of how communities of color have been disproportionately affected in accessing healthcare, while talking to them about their diagnoses and treatment plans.