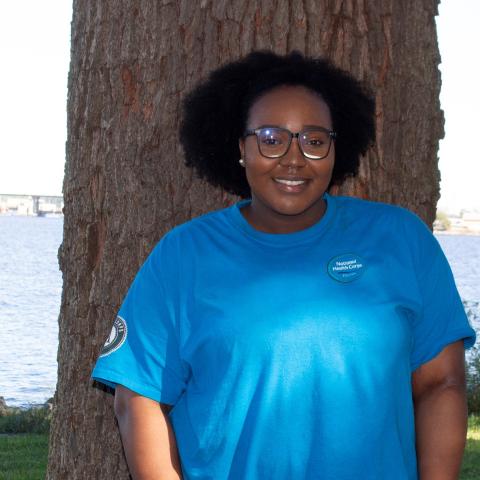 Hometown: Medford, New Jersey
Educational background:  Bachelors of Science in Psychology from the University of Maryland, College Park. Certificate in Pre-Health Sciences from The University of Pennsylvania. 
What is your title and role at your host site? 
I will serve as the Patient Navigator/Outreach Coordinator for the JaxHATS program. In my role, I will assess patients that are in need of transition services. As adolescents transfer to the adult side of long-term medical care, it will be my job to ensure that they receive all of the necessary resources to do so. This will include surveying patients and their families regarding their needs for the transition process, as well as educating and aiding patients to become self-advocates during their transition. I will help them navigate the resources and services made available and connect them accordingly. In addition to providing quality counseling and planning relevant transition activities, I will serve as a liaison when consultation or referrals are needed.
Why did you join the National Health Corps Florida AmeriCorps program?
I wanted to do meaningful, hands-on service during my gap year before medical school and the National Health Corps was the perfect program to do so. I wanted to contribute to the community in a positive way wherein I could combine my previous public health and clinical experience. Working as a medical professional in an underserved community has always been my ultimate goal. I want to be an advocate for those who cannot advocate for themselves. The best way to do this is to fully immerse myself in a living and learning program such as this one that will not only help me grow as a person but also fortify my love for patient care. 
What are you hoping to gain from your year of service?
I expect this year of service to be an enriching experience. I hope to enhance my communication skills, and develop my interpersonal skills. It is my hope that through engaging in professional and personal development, I can better understand the needs of the community I want to one day serve as a physician. 
I am also excited to enhance my cultural awareness, humility, and refine my leadership and counseling skills. And of course, making lifelong friendships with other dedicated NHC members! 
What are your plans after AmeriCorps service?.
I plan to matriculate into medical school to pursue a career as a Pediatrician
Where do you envision yourself in 5 years?
I hope to be finishing medical school and preparing for a residency program with strong ties to its community.