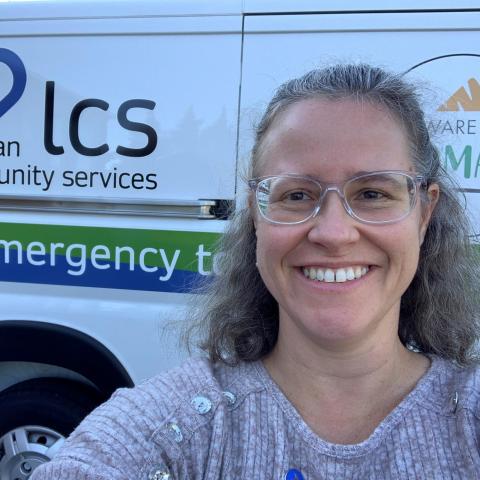 Member Name: Jenn Ruebush
NHC Program: Delaware
Host Site: Lutheran Community Services
Position Title: Community Outreach Coordinator
Where are you from? Growing up, I moved around a lot, but I was born in Virginia and lived there more than any other state. As an adult, I moved from New Mexico to Delaware with my husband in 1996 and have been in the same community since then. My parents and siblings live in four different states, and my in-laws are spread out around the country as well, so I don't have any place that is more "home" than Delaware.
Why did you decide to join NHC? My youngest child graduated from high school, and it was time for me to do something more on my own. My brother and sister have completed service terms with Americorps, the Peace Corps, and other service organizations, and service always has been part of my life. So when I saw that Delaware was starting a National Health Corps program, I looked into it. I'd been advocating for mental health awareness and services for several years, and health equity is something I would love to see more of, so this program seemed like a good fit.
What are you hoping to gain or learn during your service term? I'd like to learn more about how health inequity and other issues around inequality are being studied, addressed, and hopefully improved. I would love to be a part of that effort. As a middle-aged white adult, I've been blessed with privileges and opportunities, but as an individual, I have experienced adversity, mental health challenges, and the need for changes to make society better. I love connecting people and resources, and I'd like to find ways to make that happen more. I expect to have some real life lessons and moments that broaden my understanding.

What are you most looking forward to during your service term? I look forward to meeting people and to hearing their stories. I expect to gain a better understanding of the struggles others face, and I hope to be able to help them reach out to people or organizations who can share their wisdom, knowledge, and drive for something better.