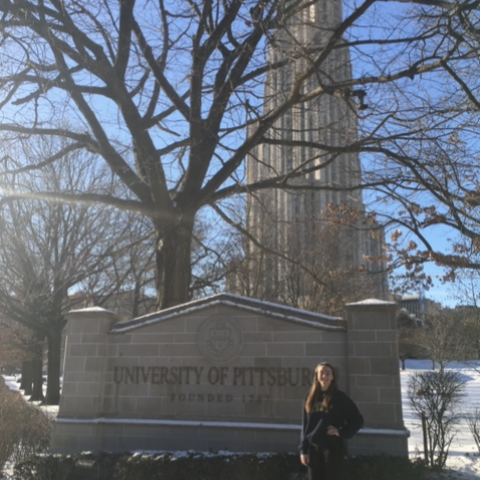 Educational background: B.S. in Biological Sciences and Neuroscience from the University of Pittsburgh.
What is your title and role at your host site? I am serving as an Outreach Coordinator at UPMC for You.
Why did you join AmeriCorps/National Health Corps? During my undergraduate education, I studied neuroscience and became extremely interested in the biology that underlies psychiatric disorders.  This interest led me to the realization that current treatment options are often not ideal and that many people face barriers in accessing treatment, which can have devastating consequences.  I wanted to take some time before medical school to do my part in changing outcomes for people with neuropsychiatric diagnoses who may feel hopeless at the lack of treatment options, stigmatized by society, or marginalized by their disorder.
What are you hoping to gain from your year of service? I am hoping that my year of service will help me gain experience with the clinical population that I hope to serve as a doctor in the future.  It is my hope that this experience will lead me to a more comprehensive and holistic understanding of health that will be reflected in the way I practice medicine.  Ultimately, I hope these experiences help me to become a doctor who is mindful that a person's health extends much further than just a diagnosis and treatment.
What are your plans after AmeriCorps service? After AmeriCorps service, I plan to attend medical school and become a doctor who specializes in either neurology or psychiatry.  No matter what direction my career takes, I hope to use what I have learned throughout my year of service to advance treatment for neuropsychiatric disorders and to advocate for those who live with mental illness.
Where do you envision yourself in 5 years? In five years, I hope to be graduating from medical school and using what I have learned to help people with neuropsychiatric disorders live healthy and fulfilling lives.  Additionally, I would like to get involved in developing more effective treatment options and more ways to reach underserved populations, many of whom face barriers to treatment, especially as it pertains to mental health, and may not have access to those treatments otherwise.  Wherever I am in five years, I hope that I am continuing to be an advocate for those with neuropsychiatric disorders because it is unfortunately way too easy for their voices to be ignored.