Most* National Health Corps members complete 1,700 hours of service during a 42-46 week service term in one of NHC's program locations. Each member is matched with an organization in the community, called a "host site," where they will complete most of their service. Service terms usually last from late August-July, but opportunities are often available year-round! Members also earn service hours for participating in committees, other individual or group volunteer opportunities, trainings, professional development activities, and more! 
*Members serving at NHC Delaware pilot sites in 2021 will complete 1,200 hours over the course of 30-33 weeks.
Is NHC Right for Me?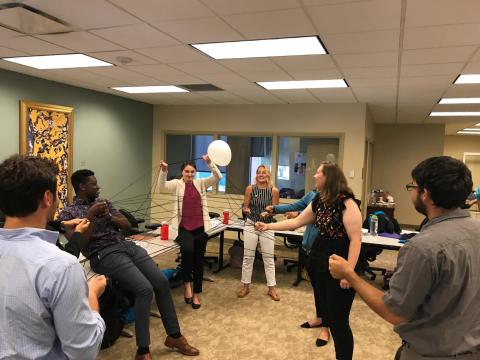 NHC members are dedicated, dynamic, hard-working people with different backgrounds and experiences who are ready to commit nearly a year of their lives to service. Many NHC members are interested in careers in public health, medicine, or related fields and find that NHC helps inform their next steps, but this is certainly not a requirement.  NHC welcomes people with all different interests and future goals! The most important quality in an NHC member is a readiness to bring the best they have to offer - their creativity, energy, enthusiasm, and readiness to learn - to serving their communities.  
NHC members also need to meet certain AmeriCorps eligibility criteria. These include:
Members must be at least 18 years of age by the start of service.
Members must be U.S. Citizens, U.S. nationals, or lawful permanent residents. 
Members must have achieved a high school diploma or GED by the start of service. 
Members must not have previously served four AmeriCorps State or National terms.
Think NHC might be right for you? Apply now! 
Member Benefits
NHC aims to offer its members a wonderful and life-changing service experience! Some of the benefits of NHC membership include: 
Compensation and Support
Basic living allowance (pre-tax) during the service term. (stipends vary per NHC program location. Contact relevant program staff for details.)

Free basic health, vision and dental coverage during the service term for those who need it

Childcare subsidy (if eligible) during the service term 
Student loan forbearance for eligible loans during the service term 
$6,000+ Segal AmeriCorps Education Award toward college, technical/trade, or graduate school expenses, or student loans (if eligible) after completing service
Free Member Assistance Program with access to 24-hour assistance  from masters-level professionals for mental health counseling, legal and financial assistance, personal assistance, medical advocacy and support for work/life resources. 
Transportation Costs (reimbursement varies per NHC program location. Contact relevant program staff for details). 
Training and Professional Development
Meaningful, hands-on public health experience 
Public health and professional development training
Mentorship from local operating site and host site staff
Member retreat
Group service projects 
Member-driven professional development committees 
NHC is committed to helping develop leadership skills,  so members have many opportunities to participate in and lead member trainings, service activities, committees, and special projects. As an NHC member, you can help inform the program's program design and communications strategy; build its social media presence; coordinate and provide trainings to fellow members, community members, and health provider staff; recruit volunteers; and organize service projects. Members are encouraged to think of new ways to contribute and meet their community's needs - the sky is the limit!
Career Readiness and Lifelong Professional Development/Networking 
Networking opportunities
Connections to public health professionals and NHC alumni 
Alumni Grant opportunities 
What You Will Do
NHC members provide three main services in the organizations where they serve: 
1. Education: NHC members provide education and skills building support to individuals to improve their health and overall wellness.  
2. Access: NHC members assist individuals in accessing health and related social services to help them lead healthier lives.
3. Capacity Building: NHC members improve or expand direct services to make them more efficient and effective or expand their scale or reach. 
NHC service position categories include: 
Care Coordinator
Case Manager
COVID-19 Responder 
Health Educator 
Outreach Coordinator
Patient Navigator
Learn more about NHC's position types.  
A key priority for the NHC program is to eliminate health disparities and the underlying structural oppression* that perpetuates them. While each NHC member's activities vary in order to meet the specific host site and community needs, the majority of member activities for the 2021-2022 program year will be focused on four major areas: 
supporting individuals with opioid and prescription drug overuse disorders;
increasing seniors' ability to remain in their homes with the same or improved quality of life for as long as possible; 
increasing physical activity and improving nutrition with an aim of reducing obesity and related chronic conditions (diabetes, heart disease, etc.); and 

preventing and responding to COVID-19 (including the underlying structural oppression that contributes to the pandemic).
*the multiplicity of ways that white/cisgender/heteronormative/ableist supremacy oppresses society, as well as the systematic and systemic ways that privilege is used to produce or reproduce inequity
Opportunities to serve may include activities as diverse as:
Participating in COVID-19 vaccine distribution, case investigation, contact tracing, and client education 
Developing and delivering community health intervention workshops 
Engaging youth in cooking and physical activity workshop sessions after school 
Helping older adults use technology to improve their health
Supporting alternative pain management programs for people with opioid and prescription drug overuse disorders 
Distributing fresh produce and providing nutrition education to health center patients 
Assisting refugees and individuals who are homeless with navigating health systems, and accessing health and social services 
Providing individuals who are LGBTQIA+ with health education and access services
Check out NHC's Open Member Positions below to see a full list of available member opportunities.
Take a look at NHC's Member Stories to learn about a day in the life of an NHC member!
Open Positions
Select any site to see results