Hello! My name is Aly Sato (she/her) and I serve as the Low Barrier Medication for Addiction Treatment (LBMAT) Coordinator at the San Francisco Department of Public Health (SFDPH). I was born and raised in Portland, Oregon and I attended the University of Oregon where I studied Human Physiology and Chemistry. After graduating, I was eager to transfer my science background into applicable health-related positions.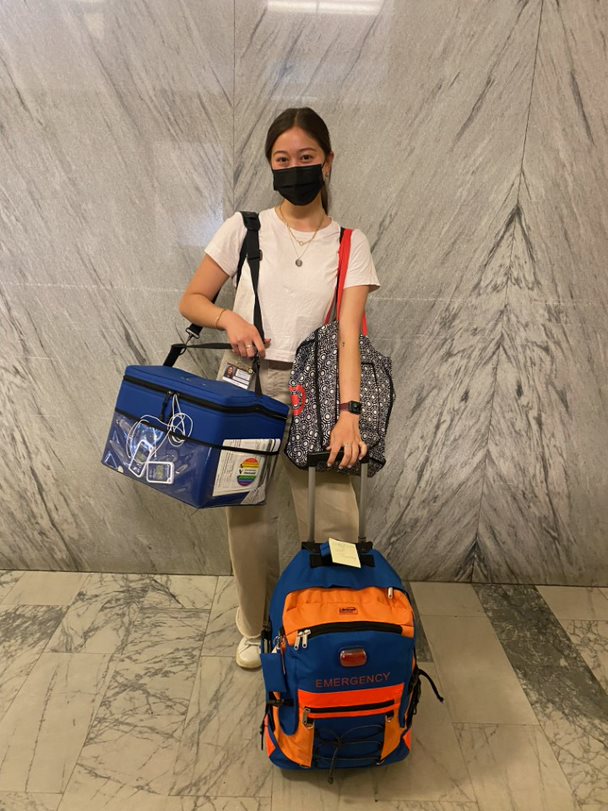 Through National Health Corps (NHC), I have been fortunate to further my passion for science and service to others at the SFDPH. Over the past 7 months, I have been able to dive into my role as the LBMAT coordinator through several teams at the SFDPH including the shelter health, COVID-19 mobile vaccine, and street medicine teams. This work has allowed me to better navigate the intricacies and nuances of the San Francisco Health Network, while also learning skills that will aid me as a future health care provider.
A main aspect of my role is serving on the Street Overdose Response Team (SORT). SORT connects houseless and marginally housed individuals who have recently experienced a non-fatal overdose to medical care. In 2020, the number of accidental overdose deaths in San Francisco reached a historic high. This increase in fatal overdoses has been exacerbated by the COVID-19 pandemic and an influx of synthetic opioids. In addition to this stunning and saddening increase, analysis has shown that 50% of individuals who died from an opioid overdose in 2020 had prior contact with emergency medical services and thus would benefit from further medical follow-up and support after experiencing an overdose. SORT's multi-response approach promptly connects patients with medical care. Additionally, this model allows us to offer extremely accessible medications, such as Buprenorphine, that are used to treat opioid use disorder (OUD). My role within the team consists of outreaching to clients with a provider and peer champion in the days following a non-fatal overdose. This allows our team to meet patients where they are at while offering not only medical resources to bridge care gaps but also emotional support. 
Moreover, our team aims to build strong and trusting relationships with patients and community members through consistent contact and culturally competent care. In addition to offering medication for addiction treatment, we work to connect clients with resources that relate to other medical concerns, mental health needs, housing, and harm recreation services. Having a strong understanding of the many community based organizations, resources within our community and the most up-to-date care practices allows us to best support clients holistic needs. 
Through my time with NHC, I have realized the immense importance of meeting patients where they are at. This position has amplified my understanding of patient-provider partnerships and the rapport that is needed to ensure patients receive the best care possible when addressing the many aspects of one's health and well-being. Health transcends beyond a clinic setting and to truly meet the needs of our patients we need innovative ways to reach and connect with them.
30 Van Ness Avenue, San Francisco, CA 94102
30 Van Ness Avenue, San Francisco, CA 94102