Humans of NHC: Meet Eula Sherman!
We're thrilled to introduce Eula Sherman (she/her), who is a health worker at Potrero Hill Health Center and has been supporting the Food Pharmacy at this clinic. Eula is a leader in the community and a champion of Food Pharmacy. She is the main reason why the Food as Medicine Collaborative was able to partner with the Potrero Hill Neighborhood House to host our monthly Community Days. We are so grateful to be able to work alongside and be inspired by such a vibrant spirit! Thank you, Ms. Eula, for all you do!
Where are you from?
I'm from Jacksonville, Florida. I came here in 1965, first living in the Fillmore district, and then we moved to 131 Beulah. I came here with my mom and three brothers. No dad - never knew my dad. My mother raised 4 kids. She was a workaholic. I've looked for love in all the wrong places. Here I am today, a city and county employee. Before I came to work at the city and county, I was an outreach worker for the MAP van (mobile assistance patrol). From there, I moved on to medical respite as a medical respite driver, and from there I moved on to the SF HOT team as an outreach worker. From there, I became a Health Worker 2 for the city.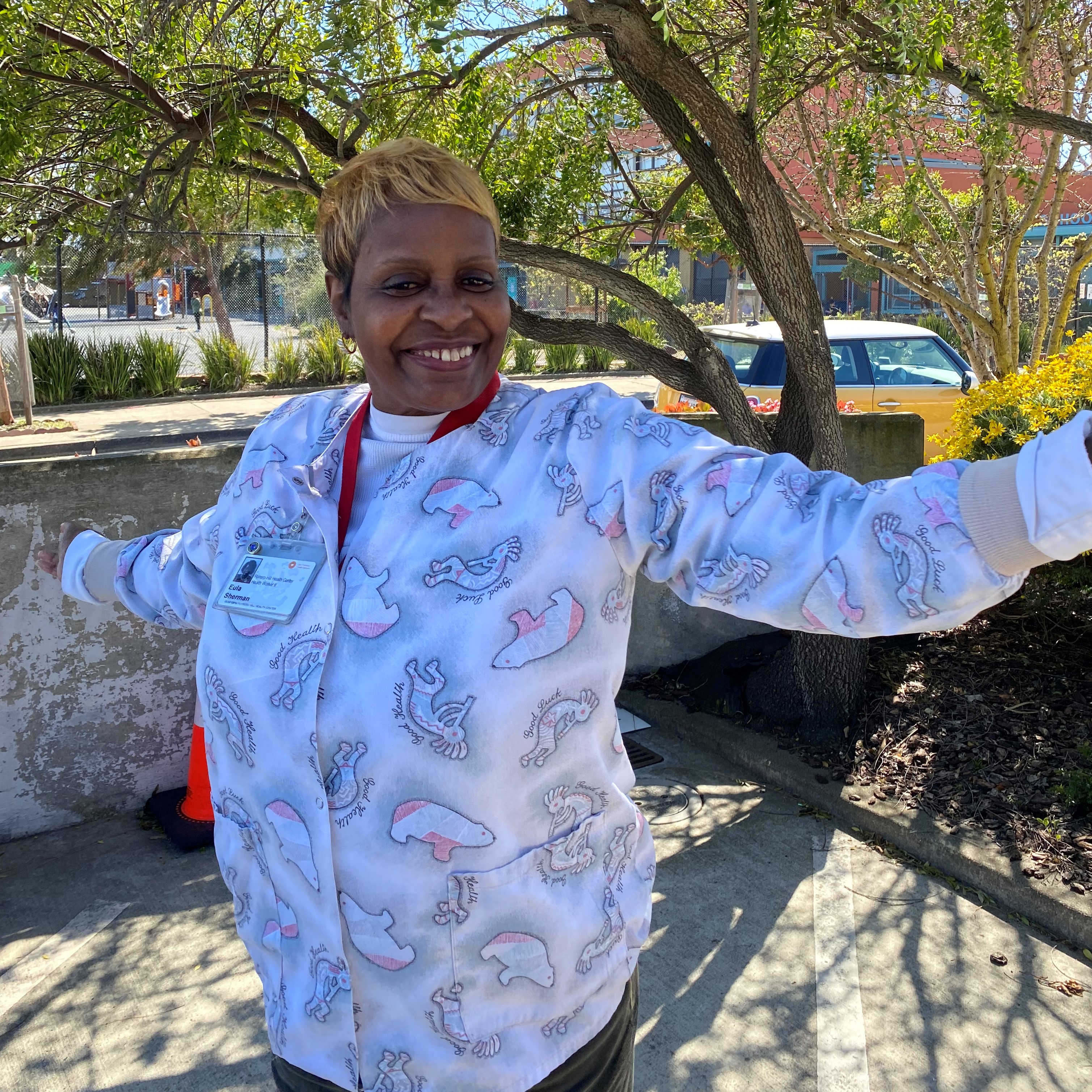 What is your role?
I am a Health Worker 2 and Behavioral Assistant. I work with all the healthcare providers, and I provide them with services from equipment to EDD, IHS, advocacy, support, and encouragement. I go places with patients when they may need help with filling out paperwork for social security or housing. And I deal with the community. I've been here for 12 and a half years.
What about working at PHHC is special? What do you enjoy about your work?
The people. The patients. The community. The staff. It gives me joy when I see an achievement [that] I've done that has made a successful outcome for the patient. For example, one patient I had was homeless and lived across the street in the Potrero Hill Neighborhood. They could not read or write. They were in and out of jail and the clinic was their safe haven/place. They finally tried to go to school and read a little and know their numbers. They came in one day and said "Ms. Eula I know how to say my phone number" which blew my mind because they didn't know how to read or write. They now have a permanent home. That, to me, is the poster child for a story about an individual who has gone through a lot of struggles and trauma and has overcome their struggles.
What/who inspires you? Why?
For sure, God. Scriptures. Gospel music. Basketball and football. Just a positive environment. And being a team player with my coworkers. With my history, I shouldn't even be alive today. When my spirituality came into my life, I saw that there was light at the end of the tunnel because I was blind and couldn't see. But now I have been found. People who know the Bible, they'll know what I mean.  Scriptures and gospel music relate to some of my wounds. Scriptures give me strength.
When difficult times come up during your workday, how do you deal with it?
The first thing that goes through my mind when a situation needs to be de-escalated is to calm the person down. Listen. Then, I can respond. Then we can come up with a solution. And then it can be resolved, and everybody goes away joyful.
Difficult times include dealing with [activated] patients. I work around it by staying humble, kind and patient.
I pray. I count to ten and breathe. I go outside. I converse with certain individuals here at the clinic to get their input and to give me correct criticism which I can accept.
What advice do you have for young people?
Listen. Accept when someone's telling you you're wrong. Challenge yourself. Don't accept wooden nickels. Get your education. Be patient. Don't give up. Don't be disrespectful. Be humble, kind, patient, loving, self-controlled, gentle, faithful. And of all things, pray. It's not what you say when you pray, it's prayer itself.
25 Van Ness Avenue, San Francisco, CA 94102
25 Van Ness Avenue, San Francisco, CA 94102