Rethinking what it means to be a part of a community
When I chose to serve with the National Health Corps in Florida, my initial worry was trying to become integrated into a community within such a short amount of time. As a Community Outreach Coordinator at CAN Community Health in Daytona Beach, FL, my role involves testing clients for sexually transmitted infections (STIs) and providing education about Pre-Exposure Prophylaxis (PrEP) --a pill that is taken daily to prevent one from acquiring Human Immunodeficieny Virus (HIV). An additional aspect of my role is engaging in community outreach events in more rural parts of central Florida to provide HIV/Hepatitis C testing along with education about preventative measures for HIV and other STIs. 
When I began my service, I continuously asked myself "How can I refer clients to local resources when I am not fully aware about such resources?", "Will I be able to make friendships and relationships with community members in such a short time?", "How many genuine relationships can I make?", "How much outreach should I be doing within the community?", and "What if no one or very few attend my community outreach events?" These questions and others caused me to reevaluate my idea of what it means to be a part of a community.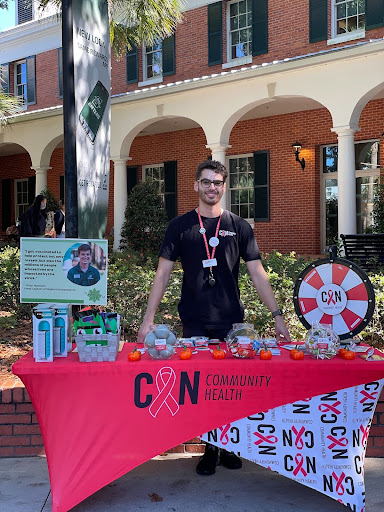 As I was helping prepare for a World AIDS (Acquired Immunodeficiency Syndrome) Day Memorial Service for Flagler and Volusia Counties, I had the unique privilege to serve alongside other members of the community and several community-based organizations. During our preparation, we had conversations about how to make the event as meaningful as possible. While listening to others planning the event and our speakers for the service, I recognized that the importance of community events is not necessarily how many people you can reach within an event but rather coming together to raise awareness about the importance of our service, which in the case of our World AIDS Day event was to dismantle stigma surrounding HIV/AIDS. 
Furthermore, in preparing for our World AIDS Day event, we had many obstacles arise, but each challenge that presented itself provided an opportunity to collaborate and think creatively with community members. As I was planning this specific event I frequently had conversations with individuals about their stories and backgrounds behind their service and their attachment toward their community.
What I realized while serving with the National Health Corps is that being a Community Outreach Coordinator is not necessarily about the quantitative impact you can make on your surroundings but rather the more qualitative aspect of listening to members in the community you serve and being receptive toward their stories and perspectives.