Creating the Space by Regina Cuddeback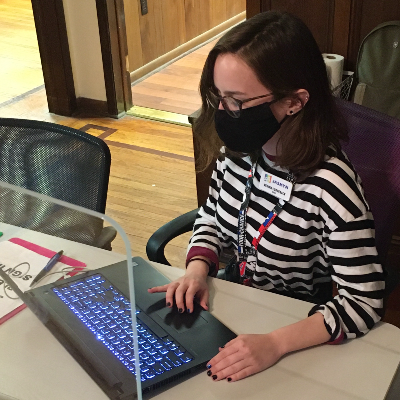 Early in my service, I participated in a housing intake for a client close to my age who recently became homeless in a sudden and unfortunate way. Due to our similarities in age and background, I saw myself reflected in the client, and when his eyes began to water during his intake, I found my own watering as well. For the first time in a long while, I caught myself expending considerable energy to stifle the emotions I felt bubbling towards the surface; I knew I could not cry in front of him. It was imperative that I maintained my composure so that the client had the space to express his own emotions. 
JASMYN (Jacksonville Area Sexual Minority Youth Network) is a youth center which provides social programming, HIV/STI testing, HIV/PrEP care coordination, and housing case management services to young people ages 13 to 29, primarily being LGBTQ young people. As the Youth Care Coordinator at JASMYN, I provide case management services to youth who are experiencing homeless or are at risk of becoming homeless. My coworkers on the Housing Team often express frustration on how limited our abilities can be. "We can't solve homelessness," they say, "We can merely try to fill the gaps." Still, when many of our clients have a lifetime's experience of encountering rejection, barriers to care, and copious amounts of red tape, sometimes even a genuine effort to help goes a long way.
In a similar fashion, the JASMYN staff member who trained me to be an HIV tester emphasized that the most important thing to do when delivering a reactive result (a.k.a., a presumably HIV-positive result) is to "hold space" for the client to process. "Your main role in that moment is to be an emotional punching bag," he asserted. Though blunt, I knew he was right, and I distinctly remember the first time a rapid HIV test came back reactive. As the results slowly materialized before me, I felt my face heat up, my heart quicken, the client's words became muffled, and a single thought occurred: "I have to be the one to tell him he has HIV."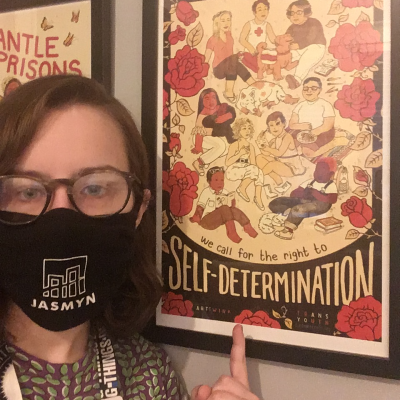 While I had mentally prepared myself for the worst -- to become the emotional punching bag as my coworker described -- the process of talking the client through his initial reaction was much easier than I expected. He was still upset, but was willing to work with JASMYN staff to begin the steps to receiving treatment. Another coworker remarked to me afterwards that while we can't change our clients' HIV status, we can get them linked to the care they need, and we can help them process their new diagnosis in a solicitous and compassionate manner. However, I believe that "holding the space" is an inaccurate description for this. At JASMYN, we do not merely hold the space, but intentionally create the space where clients can express themselves without fear of judgment. This ability -- to foster empathy, to maintain composure, to be an effective support system -- is one I have been able to develop during my service term with JASMYN, and I know it will continue to be a vital skill throughout my public health career.