Humans of NHC: Meet Janna Cordeiro from the Food As Medicine Collaborative!
Janna Cordeiro (she/her) is currently the interim program manager for the Food As Medicine Collaborative (FAMC) and supports two NHC SF members in the service they do as part of facilitating Food Pharmacies in community clinics across San Francisco. We are so grateful for her support this past year! See below for the full text of our interview with her.
Q: What and who inspires you? Why? How did those influences impact your career trajectory?
J: The connection between food and health has been a big part of my family story. I've seen, very closely, how powerful food is to our health. It can be the most powerful medicine or the worst poison.  It's so much more complicated than just "eat your vegetables." I began my public health career in college when my dad came out to me. This was the late 1980s in the height of the AIDS epidemic. I wanted to learn more, and share what I was learning with my peers. I organized "sexuality teas" on my college campus and began volunteering at the AIDS Project. I wrote a grant to get an Americorps position (then VISTA) at the AIDS project and then took on that role in creating Vermont's first women's HIV Prevention program. My VISTA service was my first real professional experience!  It was a different time then, with no treatments, rampant homophobia, and a lot of fear but also a lot of bravery. I carry those early experiences into my work today, some 35 years later.
More recently, I became passionate about food justice and am focusing my professional and personal time working to bridge healthcare and food systems. After I had my daughter almost 20 years ago, I  became focused on breaking my family's cycles of unhealthy eating, inactivity, and untreated mental health. When I became an independent public health consultant,  I had the great opportunity to work in a community in SF to address racial health inequities. I got involved in soda tax advocacy and learned all about the egregious harms the soda industry has inflicted on underserved communities. That, along with seeing how my family has suffered, is the fire in my belly, and really drives my commitment to this work.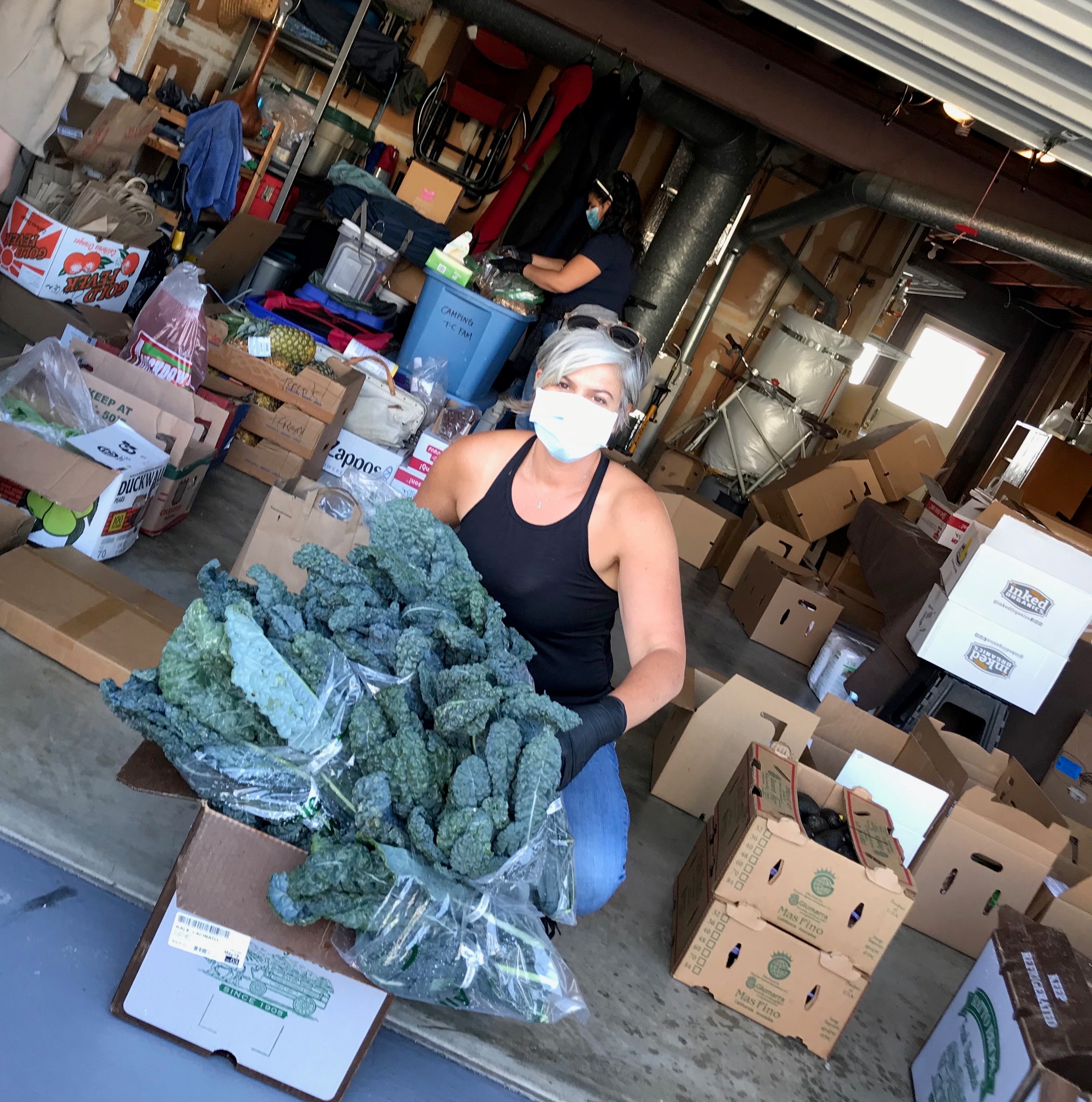 Q: What do some of your job responsibilities look like?
J: My role is to provide support and technical assistance to clinic-based Food Pharmacy programs and to help support new ones as well. I have been developing partnerships with food businesses and nonprofits to support food programming in clinical spaces, and have been participating in strategic planning with FAMC members. My goal at the end of the day is to bridge health systems and food systems with the main goal of increasing health equity.
Q: What was one of the more discouraging moments that you can remember? How did you deal with this situation?
J: One of the more discouraging moments I remember was when the shelter in place began, and overnight, our entire anti-hunger system and network of pantries, congregate meals and community dining sites, free school lunch programs, and food distribution sites just completely shut down. None of these spaces had solid plans to deal with a global pandemic that was driven by an illness contracted by close contact with other people. In an effort to prepare health clinics for the pandemic, the San Francisco Department of Public Health had to limit the number of people in clinics and we didn't know enough about how to keep people safe who were distributing food, so Food Pharmacy programs in clinics were also suspended.
It took me a few days after the Shelter-in-Place order to understand the implications of the Pandemic. My colleagues encouraged me to really get up and do something. We couldn't leave our patients who were the most at risk for COVID-19 without the food resources that they had come to rely on, and now, they needed even more. Being involved in public health and reading about what was happening in China and Italy at the beginning of the pandemic, I could see what could happen to our community - we saw that in New York too. So really, it was just about pulling out every resource, strategy, and approach I had learned in my entire career - every person I knew, every relationship - digging deep and leaning on everything that came before to address the crisis.
We didn't have a lot of resources in the beginning but I was quickly able to tap into a network of people who were not afraid to go out into the community and make sure that the most vulnerable folks in our community could access food. Everybody worked together. Who you call "givers" and you call "receivers" really frames the conversation. At the beginning of the Pandemic, it was the communities most impacted that organized–it was really mutual aid-based. We ended up providing food to seniors at Southeast Health Center in partnership with Brittney Doyle–a woman who had been doing independent consulting projects with seniors in the Bayview. She just jumped in, and I was able to offer her a lot of produce credit at Earl's Organic Produce. That was an experience that if I had just sat, waited, and taken a safe route, I would have missed out on an opportunity that became one of the most meaningful ones of my life. So, in that way, I was the receiver. In April of 2020, I was asked to expand on the work I was doing to scale up to working with a whole network of over 35 mutual aid groups, nonprofits, and clinics based on the work we had started with the Food Pharmacy program at Southeast Health Center. I transitioned to working at the Food as Medicine Collaborative in June 2021 and we've continued this work today.
Q: What advice do you have for people who are just beginning their journeys toward this career?
J: My advice would be to develop consistent, sustainable, and nourishing self-care routines. I have significantly burned out three times. Twice, in my twenties - the second time, I got shingles. That is my main advice - that, and to really connect with your personal why, why you are doing this. Bringing your whole self to work is really important. Lived experiences are very valuable and never shy away from your lived experiences. Having time and space to reflect is also super important, as well as being in nature. Your health and well-being are as important as those you serve.
25 Van Ness Avenue, San Francisco, CA 94102
25 Van Ness Avenue, San Francisco, CA 94102